Following up with potential, current, and former clients is crucial for gaining business and nurturing professional relationships. There are different kinds of client follow-up for the different stages of working on a case. When conducting any follow-up, your focus should be on helping a client. It is important for your client to feel like you are serving his or her needs rather than just pushing your own needs. Not every follow-up should be focused on your services or business.
However, every follow-up should be valuable for your client.
Here are three keys to employing smarter client follow-up at all stages.
Before: potential clients
Make follow-up part of your routine rather than something you only do when trying to close a client.
Send a thank you email the same day you meet with a potential client. Determine other times at which you will send a follow-up. For example, maybe you'll always contact a potential client one week after meeting with them. This can be automated using a good CRM (Client Relationship Management) software. For prospective clients who seem more interested in your services, you could contact them more frequently than you contact a less-interested potential client. Determine what amount of contact is right for you and your clients.
Additionally, branch out and employ different methods of follow-up. Phone calls, direct mail, emails, Twitter messages, Facebook messages, LinkedIn posts— clients will respond differently to each approach. Assuming one method is best for catching all potential clients could leave a lot of business on the table.
During: current clients
At your initial meeting with a client, be sure to ask what mode of communication works best for them and the best time to contact them. Your client will appreciate if you show concern for their time and will be less likely to ignore you or feel inconvenienced.
However, even after determining best contact time for a client, following up to get documents and information for their case can be difficult. Some clients need several reminders to send the requested information. Placing a focus on how the follow-up will help move their case along should help client response time. For clients who still need extra reminders, you'll need to establish a schedule of how many times you contact them per week asking for information so that you can stay on schedule and complete cases efficiently.
You can follow up this way manually and work it into your daily routine, or to save time and maximize efficiency, you can use Canopy's Client Request feature. This feature allows you to place a request for a client's documents or information, of which they'll be notified through their client portal. You can also set the request notifications to automatically remind your client at whatever frequency you choose until the request is fulfilled. For example, if you normally have to remind your client about sending documents every other day, you could set the request to send at that frequency and Canopy would automate the reminding for you!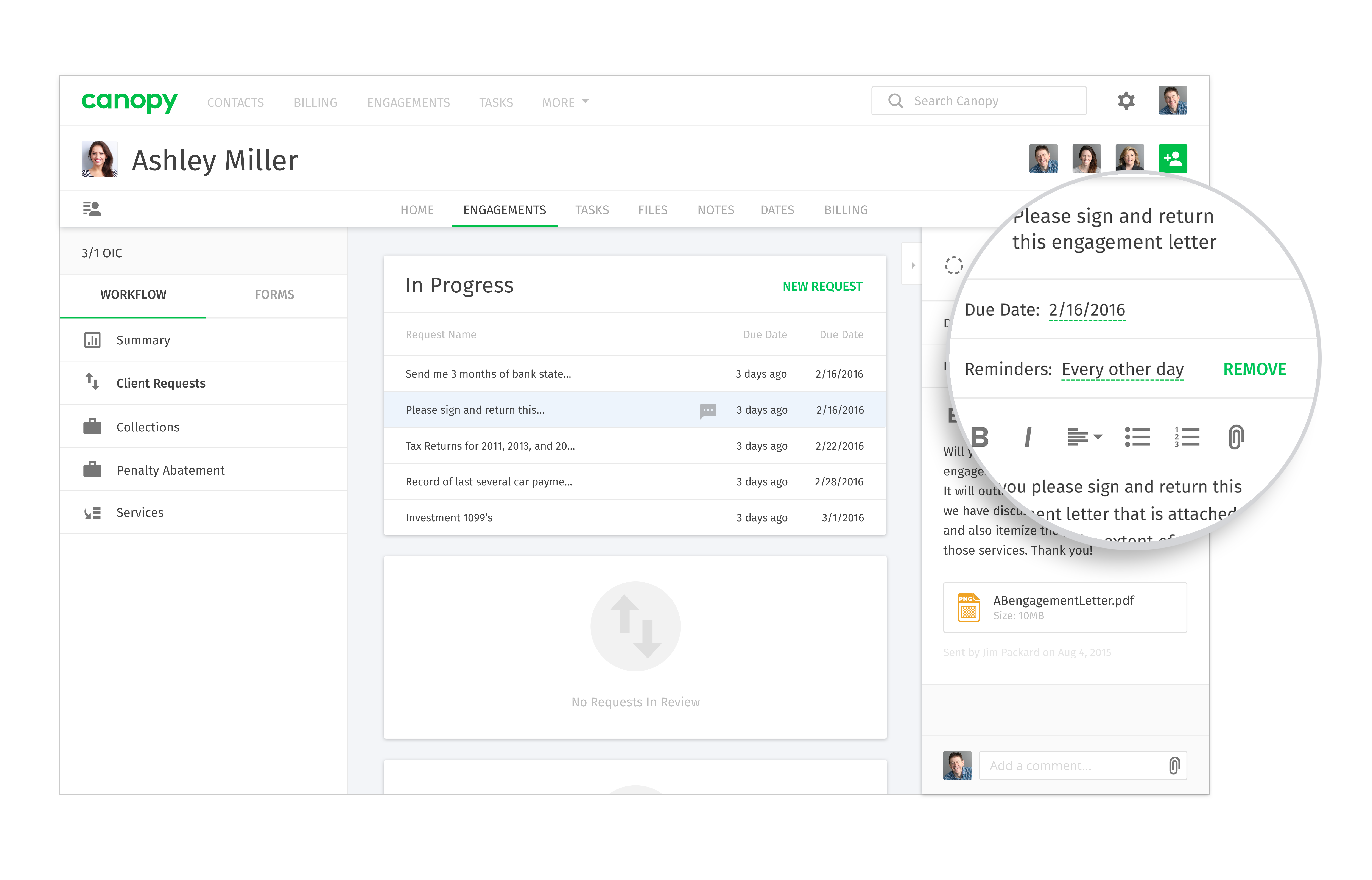 After: former clients
Don't forget that follow-up is also important after you've completed services for a client. Contacting a client only while you're trying to get their business may make them feel like you cared more about closing the sale than helping them. Conducting a brief, personal follow-up after finishing services on a client's case is a way to nurture your relationship with them. Maintaining strong, positive relationships will help you gain business in the future.
Other ideas
Whether you're contacting a potential, current, or former client, include information that would be useful to them. You could include a helpful article or blog post in an email. You could suggest relevant resources. Be personal. Show clients that you really care about helping them and their unique situation.
Remember that each time you conduct follow-up, no matter what mode of communication is used, is an opportunity to show off your unique brand and set yourself apart from other tax practices. It's in your best interest to make each point of contact as positive and personal as possible.