Facebook is currently the most popular social media platform with more than 2.19 billion monthly users. Creating a Facebook page for your tax practice will lead to greater exposure, but in order to optimize the effectiveness of having a business page, you need to employ certain practices. Let's take a look at some of the things you can do to improve your Facebook marketing efforts.
Post at the Best Times
You should try to post at times when your audience is most likely to engage. According to a compilation of 23 studies by CoSchedule, the best times to post on Facebook are 9am, 1pm, and 3pm. Keep in mind, if you market to more than just local clients, you'll want to account for time zones. 80% of the US population lives in the Central and Eastern time zones.
While 9am, 1pm, and 3pm are generally the best, there may be different times that are better for your specific audience. You can find out which times of the day your audience is on Facebook by navigating to the "Insights" tab of your Facebook page and selecting "Posts." There you can see how many of your followers are active on Facebook at different times of the day for each day of the week.
Another aspect to think about is which days you're going to post. If you're not going to post every day, pick the days that have the best engagement. In general, Saturday and Sunday have 32% higher engagement and Thursday and Friday have 18% higher engagement.
Use a Variety of Features
Something that is great about using Facebook for marketing is the wide variety of features it offers. It leaves a lot of room for being creative. For example, here are some of the features you'll want to look into:
Targeting Posts
Instead of publishing a post how you regularly would, which will show up in the feed of some of your followers (not all followers due to Facebook's news feed algorithm), you can select to target a post to a certain audience. The post will then show up in the feeds of people who match that audience. For example, if you specialize in business taxes, you may target people who have expressed interest in "small business," "small business administration," and "entrepreneurship." You can also select other demographics you want to target.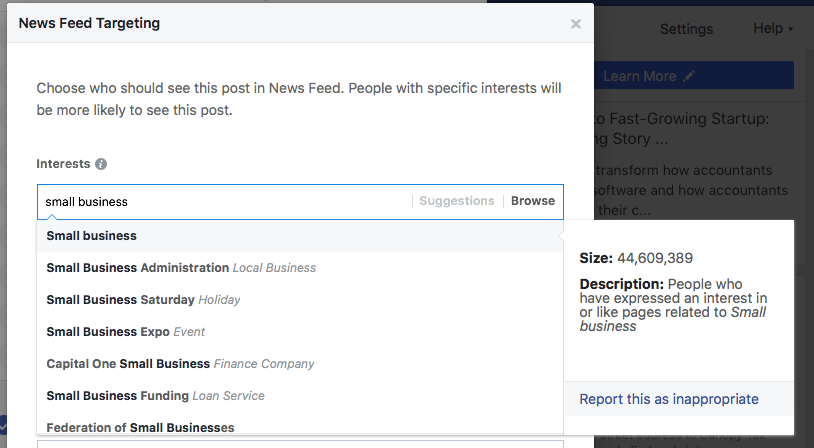 Facebook Live
Facebook Live is a feature that allows you to live stream video. While you're streaming, your audience can react and comment in real time, but they can also go back and rewatch the video on your page later. This is a quick, inexpensive way to create video content, and it will also drive more traffic to your page and increase engagement. Facebook Live videos can generate 10 times more comments than standard videos.
Groups
Creating a Facebook group is another way to offer value to potential or current clients. Groups provide a place for you to actively engage your potential and current clients in meaningful conversation. Consider starting a group focused around a tax or accounting topic that interests you.
Provide Customer Service
Along with the features mentioned above, Facebook also has a variety of features that allow you to provide better customer service to your clients. If you turn on Messenger, clients can directly message you with questions or concerns. Just be aware that social media users generally expect a more timely response from you than if they were to call or email you. How quickly you respond to messages is displayed in the About section of your page.

Another way you can use Facebook to improve your customer service is to allow clients to leave reviews on your page. Whenever you get a good review, you can be sure to thank the client, and whenever you get a bad or okay review, you can respond to the client and try to help resolve their negative experience. Either way you'll be more in touch with what your clients think about your service.
Want more tips for improving your social media presence? Download our free ebook.