Have you tried out Instant IRS Transcripts yet? (If not, you can try a free trial here!) Canopy users are loving this painless way to pull and read IRS transcripts in as little as two minutes.
Check out this quick video about how Canopy Transcripts works: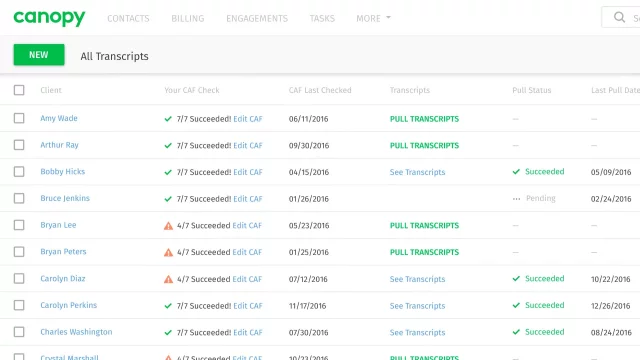 ---
Canopy uses your e-Services login to pull both individual and business transcripts in as little as two minutes.
All Transcripts will be listed in a dashboard, which will display useful information like whether your CAF check succeeded and who in your practice requested transcripts. A version history of all transcripts pulled will be maintained by date for later reference.
Canopy automatically organizes the information pulled from individual transcripts into easy-to-read, intuitive reports that show the most important data points such as penalties, accrued interest, total liability, whether liens or examinations are active, etc. A calculated CSED is even provided. You'll no longer have to spend tons of time trying to decipher transcripts before you're able to use them.
Additionally, Canopy facilitates the pulling of spouse transcripts.
Want to experience Canopy's Transcripts tool for yourself?
Get the free trial.