Free CPE Courses. Self-Study with Canopy.
Complete your credit requirements with Canopy, for free! Earn credits with unlimited, self-study video courses and webinars. Access a wide variety of highly-rated content taught by top-ranking thought leaders.
Unlimited, Free and On-Demand CPE Classes. You won't find a more convenient CPE platform.


Classes that aren't boring. Explore engaging classes from industry leaders, influencers and experts.


Automatic certificate delivery. Certificates are immediately verified and delivered as soon as you complete a class.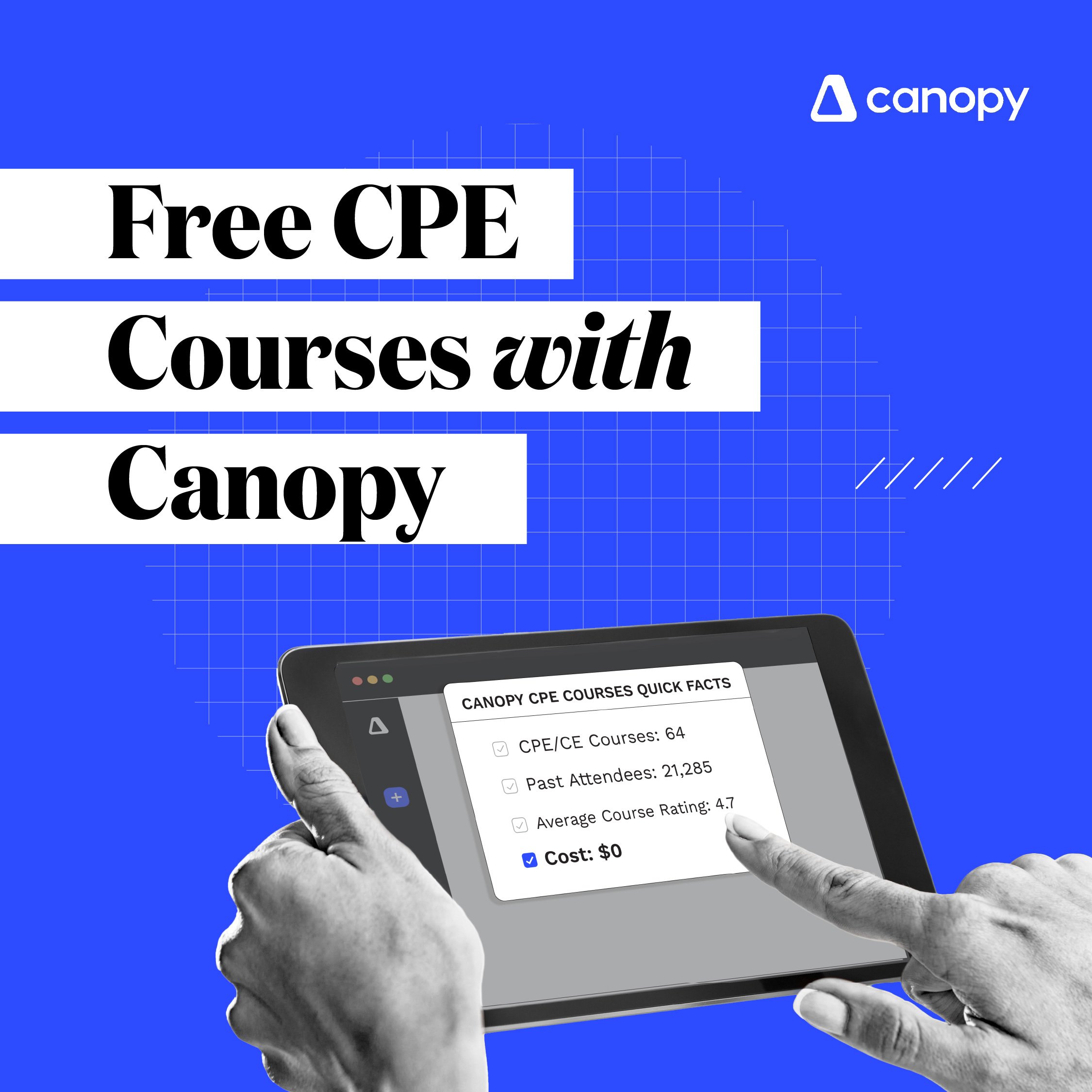 CANOPY COURSES
Premiuim CPE & CE Credits
Canopy's catalogue of Free CPE & CE classes spans eleven categories, offering everything from tax law updates to business management tips and tricks. Explore exclusive and engaging classes from any of these categories:
Accounting

Auditing

Business Management

Business Management & Organization

Communications and Marketing

Computer Software & Applications

Ethics

Finance

Personal Development

Personnel / Human Resources

Taxes
Get Started with Canopy CPE
Sign up for free and select from hundreds of in-depth courses, taught by industry leaders and trusted professionals.
1. Sign up for free.
Canopy's CPE & CE platform is completely free! Just enter your details in our registration form to gain access to hundreds of free courses.
2. Select from hundreds of in-depth courses.
Say goodbye to boring CPE! Our creative courses are designed to answer the questions modern accountants actually have.
3. Get your certificate delivered, fast.
As soon as you complete your course, we'll deliver a verified Certificate of Completion to your Canopy account.
Everything to Know about Cybersecurity
And earn 2 free CPE credits while you're at it.
The 2023 Cybersecurity Update for Accountants
Learn everything you need to know about cybersecurity as an accountant. From the ethics, rules and legal requirements you need to know to top 5 cybersecurity risks for accountants - this course will cover it all.
Cybercrime, Cybersecurity, Phishing, Malware, Ransomware, Skimming, the list goes on and on, but it really doesn't pertain to me, right? Wrong. What you don't know CAN hurt you. Learn how cybersecurity pertains to you in the first part of Canopy's 2-part series. Start the course here.
This course is a continuation of Cyber Security – Part I - Why you Need to secure your small business against cyber threats, and we cover the next steps you can take to perform a self-assessment of your risks. We will cover areas of Physical Safeguards, Personnel Security, and Computer Systems & Information Security. Find the second part here.