As accountants, you know the importance of client satisfaction—they are the backbone of your business after all. Wouldn't it be nice to know what was going on inside their heads? Thanks to new research you can! Canopy commissioned a study that examines accounting client expectations.
This study on the accounting industry gives us key insights into what different clients are looking for in their accountants. Keeping a pulse on the industry and making changes based on relevant data will help you stand out from the competition and ultimately grow your client base and client-satisfaction rates. With that in mind, let's take a look at a few key numbers you'll want to know. Here are the main takeaways:
Technology matters
Nearly 80% of small businesses say that they would consider switching accountants to one that uses the latest technology. That's a significant majority of small businesses who would rather do business with an accounting firm that's up to date with technology, rather than staying with their accountant who still does all their work on paper.
Along with that, security is crucial for small businesses as well with 92% saying confidentiality and security measures are important factors for them when it comes to choosing an accountant.
You need an online portal and mobile accessibility
Client portals let you do business online and make things easier for your clients. Nowadays, people expect things to work on their phones so they can work on the go. In fact, portals are so important, that more than half of small businesses say they want an accountant who provides an online portal, but 63% said their current accountant doesn't provide this feature.
Nearly all small businesses use their phone to run their business and they expect their accountants to meet them where they are. According to the study, 72% small business owners report they want a mobile app from their accountant and 98% of businesses with 51-100 employees say this feature is critical.
The study revealed that larger clients are also more likely to want a client portal, with 90% of businesses with 51-100 saying it's very important, compared to 48% of small businesses with 1-5 employees.
In the finance sector, 95% of small business owners said they would think about switching accounting firms to one that used a client portal.
Infographic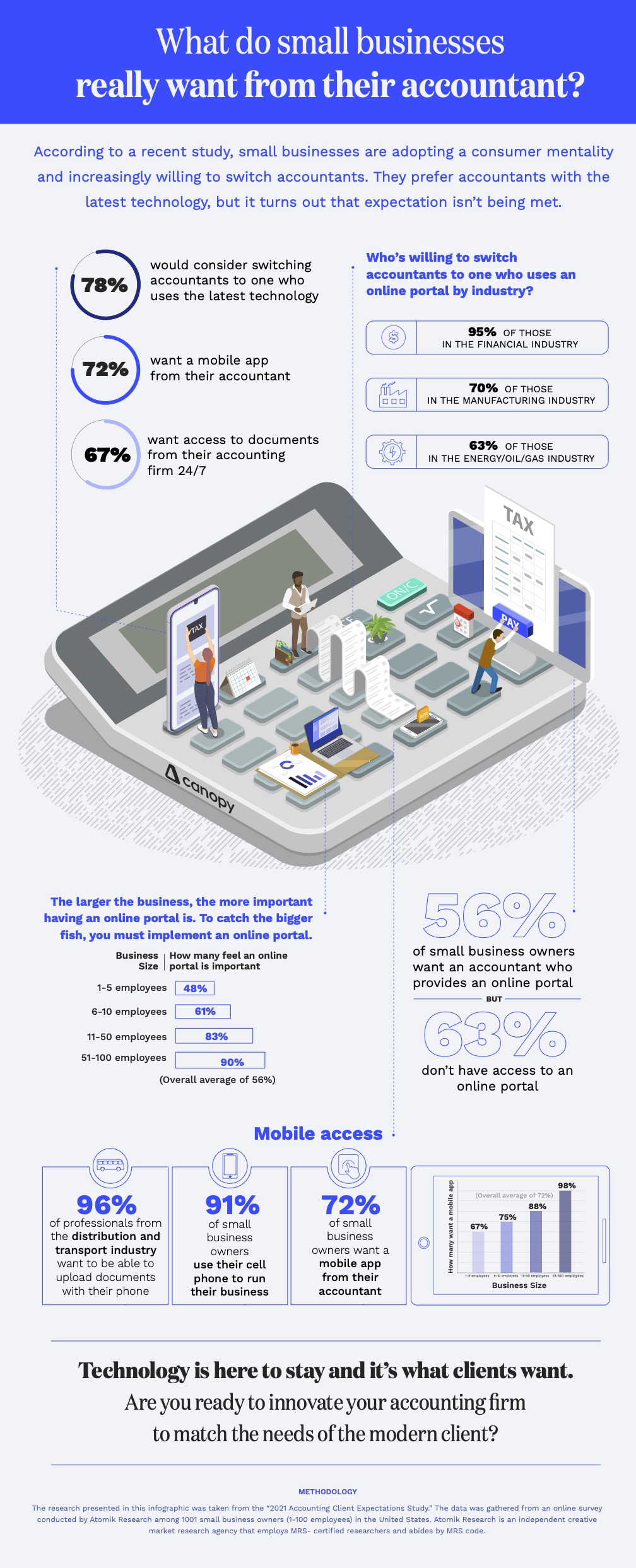 Click here to download a PDF of this infographic.
About the research
An online survey was conducted by Atomik Research among 1001 small business owners (1-100 employees) in the United States. Atomik Research is an independent creative market research agency that employs MRS- certified researchers and abides by MRS code.
Client expectations webinar
If you're looking for more in-depth analysis of this research, including insights into what clients across different industries are interested in, watch a recording of a recent Canopy webinar that walks you through the surprising trends we're seeing heading into next year. Watch our webinar by clicking the button below.