Yes, we know, it's only January and you have the entire year to get your CPE and CE credits in! But, you can never start too early. That's why we have introduced a new in-depth three-part educational series about 1099 form instructions that is eligible for both CPE and CE. Plus, what better way to prep for the upcoming tax season than learning everything practitioners need to know about 1099 form instructions. Let's take a look at what you'll learn in this course…
Free CPE: Learn all about 1099 reporting
Reporting compliance can be a major source of anxiety for the business owner as well as their accountant. In recent years, the IRS has increased the penalties for failing to comply with these reporting requirements significantly. Nobody needs the added stress of a penalty…Are you sure that you know all the rules for reporting compliance? As accountants, it's important to protect our clients from being penalized.

In this three-part course, expert Tanya Baber, EA, makes sure you are prepared to stay compliant with reporting rules and you will leave this course feeling confident in 1099 information reporting forms. Part one will take you through the deadlines in effect, the purpose of 1099s, when you should use them, deadlines and compliance rules. The second course will walk you through the proper 1099 preparation and make sure you aren't making mistakes. Lastly, part three covers the proper techniques for correcting any errors discovered on 1099 reporting.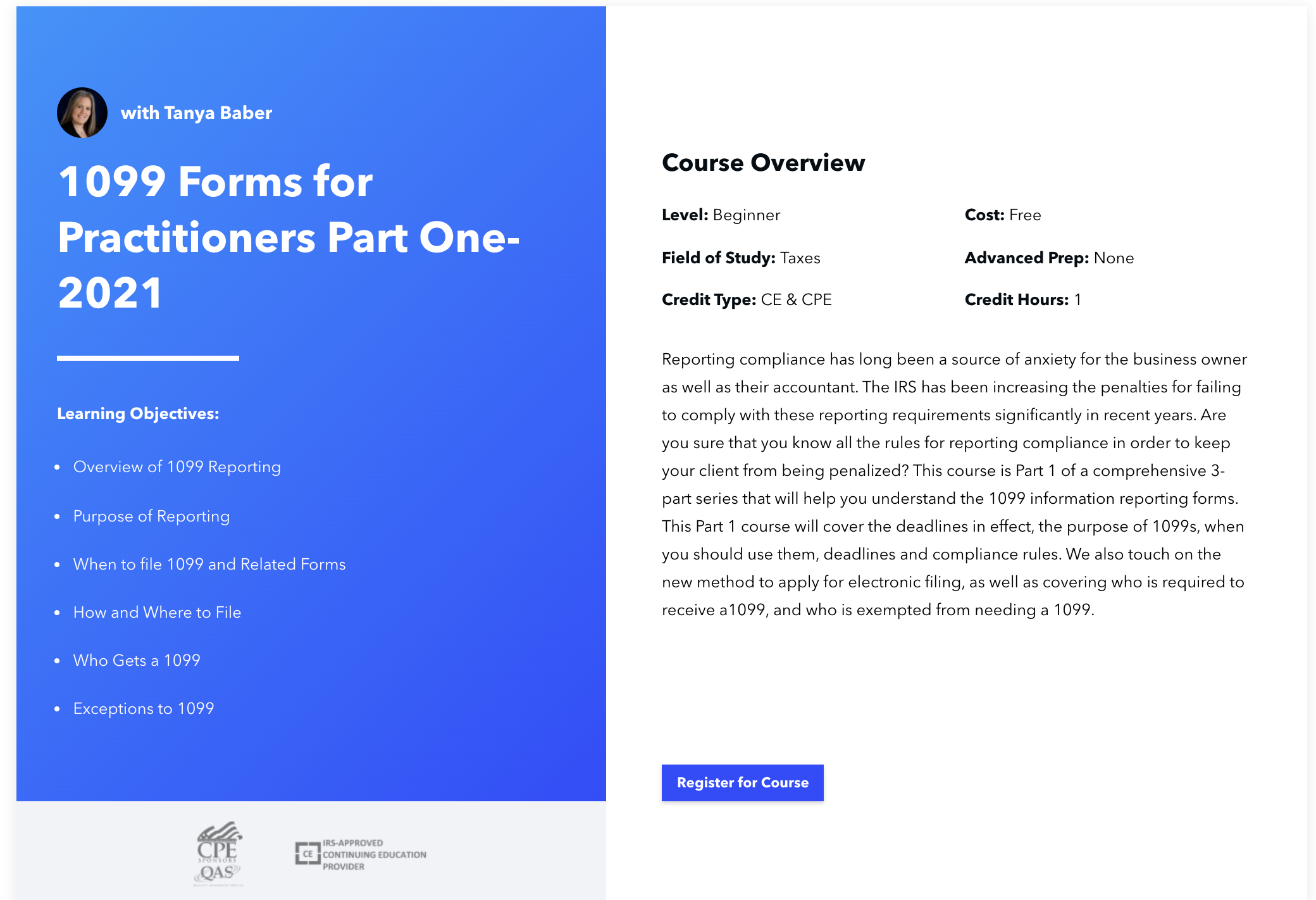 About the course instructor: Tanya has been an enrolled agent with the IRS since 2006 and received her bachelor's degree in Public Accounting and Business Administration from Colorado Mesa University. Tanya practices as a public accountant from her hometown of Grand Junction, CO and also helps clients from the east coast to Hawaii and a few internationally. Since 1994, Tanya has guided clients in the areas of accounting and payroll, personal, business, and non-profit tax preparation, planning, consulting and representation as well as solving their complex tax problems.
How can I sign up? You can register for these courses through Canopy's free CPE/CE platform, here. You'll need to make an account to take the courses, but it's completely free.

Looking for more free opportunities to earn CPE/CE credits? Check out Canopy's entire course library by clicking the button below.