Here at Canopy, we love getting feedback from our users and making our product even better! Every quarter, we host a First Look webinar, where you can see all the new features available on our software and get a sneak peek at what's being released in the coming weeks and months. If you weren't able to make it to this week's First Look live, don't worry, we have all the information you need right here. Plus, if you want to watch the webinar, where you can hear from our Chief of Product Larry Furr and see demos of new features, you can watch the recording of the webinar here.

If you're looking for the cliff notes version, keep reading.
Client Management Module
Client Portal 2.0
Canopy's Client Portal is recognized as one of the best in the biz! Now, we've made it even better. Our new, clean, and intuitive interface will give you and your clients an even better user experience. Plus, we've unified our app and browser experience across all platforms to make it more uniform.
It's a lot easier to make payments on a phone browser now thanks to our responsive client portal, that intuitively resizes to fit your screen.
There is a new custom links feature that gives users the ability to add more customization to the Client Portal and make it easier for clients to navigate to any pertinent information. Using the new third-party links feature, you can add a link to your practice's website, an appointment scheduler, or any other site you need your clients to have quick access to.
If your clients have any questions about navigating the portal, you can send them to our new Client Portal Help Site, which as the name implies, will guide them through how to use the platform. It's a brand agnostic website, since we know your name comes first to clients—not Canopy's. It provides individual, uncluttered help, all in one place.
QuickBooks Online integration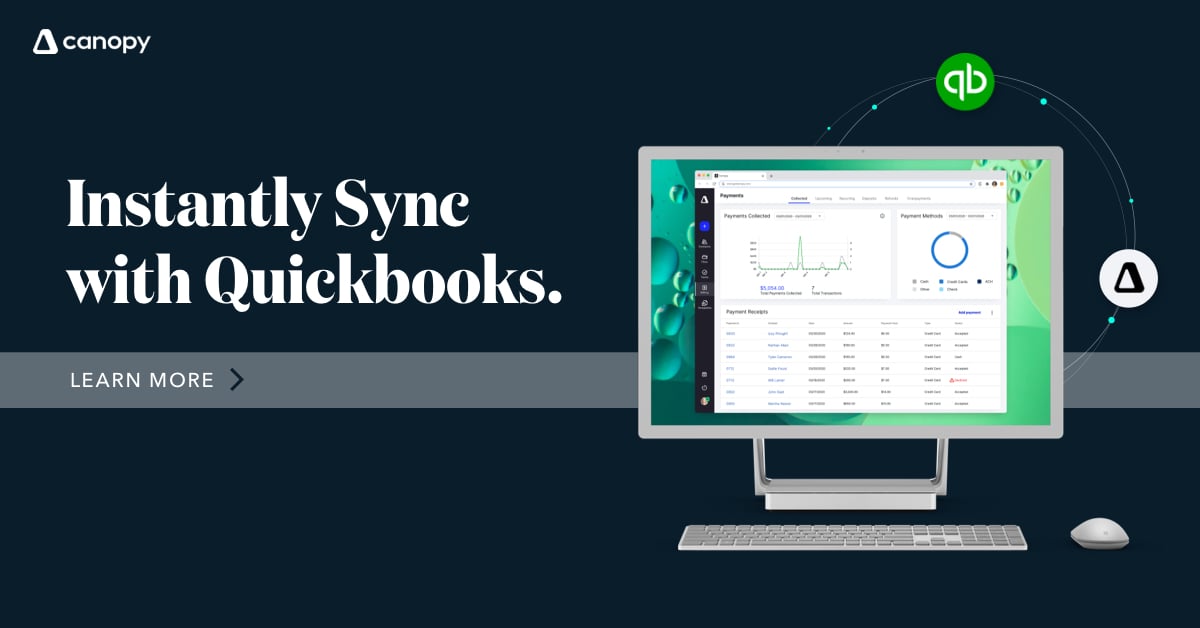 In case you missed it, Canopy now has an integration with Quickbooks Online! This allows you to sync client records between the two platforms, save time by minimizing the back and forth between platforms, and so much more.
Once synced, you can manage contacts exclusively within Canopy. Any edits made in Canopy will be automatically updated in QBO as well as ProConnect, if you use it.
Coming soon to our QBO integration: The ability to reconcile your payments and deposits with Quickbooks.
We've been working hard to improve your experience using our knowledge base and recently launched a new platform. As you can see, the site is a lot cleaner and more attractive. But we also implemented some great new features to improve usability.
Search that works: The old search sucked. It produced hundreds of results, many irrelevant, and rarely showed what you were looking for. The new search updates in real time, recognizes misspelled words, and learns which articles are most relevant to certain search terms. No more games of hide and seek, we're bringing everything right to your fingertips.
Article ratings: Is an article not as helpful as you'd like it to be? Let us know! Each article now has a rating system at the bottom so we can better learn how to provide information that works for you.
Provide your feedback: We're excited to collaborate with you. Going forward, you can submit feedback by following the link on the bottom of each article. In addition, if you find outdated information or feel something is hard to follow, highlight the text and submit feedback for your selection. Let us know how to be more helpful to you.
Something missing? If ever you feel we're missing an article on something, feel free to click Article Request (probably link to this page) in the top-right corner and submit a new article request. We're happy to add it to our radar.

Document Management Module
The Desktop Assistant will soon work on Macs! This update makes the Desktop Assistant compatible with Mac OS, allowing Mac users to access the same streamlined document management features that Windows users currently enjoy. This update is expected to roll out over the next few weeks. 🎉
Workflow Module
Time Budget
You can now set up an expected time budget for tasks and subtasks. When creating a task, you can enter how long you expect that task to take. On the task view, you can see the total number of hours logged for a certain task and the total time budget for the task. You can also start timers and log time from this page. At the top of the task view, you'll see an overall time total that includes time logged against tasks or subtasks, and a sum for the related budgets.
Time budgets can also be applied to task templates, making it easier to budget time on repeatable tasks.
Alongside time budgets, we've added a new productivity report to help you gain insight into the productivity of your staff. This report provides data about what percentage of a staff member's hours are billable, and how many of those hours are actually being billed.
Improved Date Functionality
Managing dates on tasks and subtasks just got a lot easier! Due dates and start dates will appear in their own column automatically on the task list. You also have the option to turn on other date columns as well. You can learn more about this feature here. The new date columns make it easier to create date-specific filters for your task list.
You can add new dates inline from the tasks list. With this update, you can add a date without having to navigate to the edit task window.
Coming soon: Filter views
How filters are displayed in the task list is getting a total makeover. With this upcoming feature, filters will no longer be displayed as a dropdown option, but instead show up as a tab at the top of your screen.
Coming Soon: Workflow Automation
We also have another exciting update coming your way, hopefully by the end of this year: workflow automation. This will allow you to create automation rules with a condition that, when met, triggers actions. For example, you could set up an automation to send clients an email whenever they return a client organizer. Workflow automation will help you save time and avoid mistakes caused by forgetfulness.
Coming soon: Mobile task dashboards
Soon, there will be a dedicated dashboard for your tasks on mobile. This will make task management easier on the mobile app and bring all of your task information to a centralized location.

Time & Billing Module
Reports and Lower ACH Fee
There are several new reports for credit card and ACH transactions available now.
There is now a profitability that shows the total profit for each task in Canopy using time, labor cost, and amount billed for its calculations.
We have lowered the ACH flat rate fee.
We hope you love all the new updates available now and look forward to the many more coming your way soon! If you have any questions, or would like more details on the updates, please feel free to watch the recording of our First Look webinar, where our product team answers questions from users and goes over the new features in detail. Happy Canopy-ing!
Canopy is a one-stop-shop for all of your accounting firm's needs. Sign up free to see how our full suite of services can help you today.