So you want to be a LinkedIn superstar. You're committed to curating a professional profile, connecting with all the right people, and occasionally even publishing fantastic, original content. You're on your way, right? If you're already doing all of these things, you're certainly headed in the right direction. But if you're not actively using LinkedIn Groups, you're missing out on the best that LinkedIn has to offer. Finding and being active in the right groups is one of the most effective ways to increase your circle of influence—the kind of influence that leads traffic to your website and eventually to your office (or email inbox).
But before you can start basking in the glorious influx of traffic, you have to know how to find and interact with the right LinkedIn groups.
Know what LinkedIn Groups to look for
There are over two million groups on LinkedIn. Only a handful of those will actually be useful to each person, so it is important to choose wisely. You should consider joining groups comprised of your customer base, as well as those made up of likeminded professionals. You'll only have access to limited information before requesting to join a group, but there are a few things you should look at (besides the group name) when deciding which groups to join:
Read the group description
Titles can be misleading. Before requesting to join a group, open the group page and read their whole description. Joining a group based on the name alone can land you in a group you have no interest in—like a group called "Tax Tips and Tricks" that turns out to be a "how to" on evading taxes.
The description should give you a good idea of the purpose of the group. Is the group geared professionals in the accounting industry? Recruiters and job seekers? Is it intended as a client resource? Maybe you're only interested in swapping stories with other professionals, or perhaps you are on the lookout for young talent. Whatever it is you're in search of, reading the description will help you pick the right group.
Check the group size
Look for moderate to large groups—at least a few hundred people, preferably several thousand. There are a few good reasons to join a small group—the group is local and exclusive, you have a personal connection, etc.—but larger groups will almost always provide more interaction. The more interaction there is, the more opportunity you have to contribute to the group.
Find the right groups for you
Now that you know what to look for, let's look at three ways to find the right LinkedIn groups for you.
1. Search for it.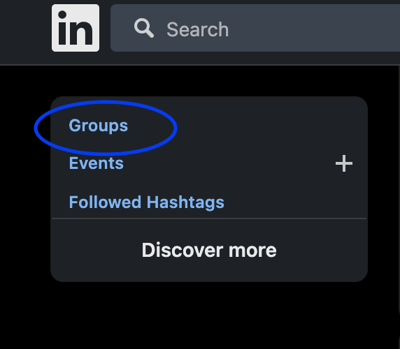 This is the most basic way to find a group. Simply select the "Groups" option from the menu in the upper left hand corner, and search for a group by keyword. Our search for "accounting" groups yielded about 10,000 results.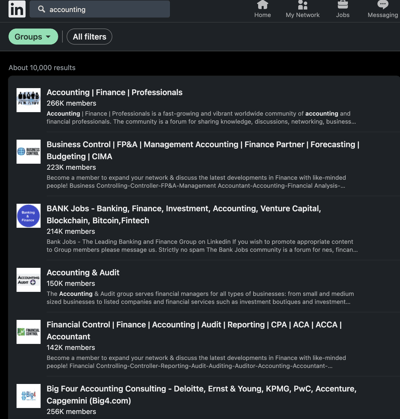 2. "Discover"
You can find "Discover" as a tab option on your personal Groups page (accessed via the "interests" drop-down menu).

This feature takes your activity on LinkedIn—profiles you've viewed, posts you've interacted with, trends among you connections—and suggests groups you might be interested in. This is a great way to find groups you may not have come across otherwise, but it relies on the information your account provides. If you're not very active on LinkedIn, the suggestions will be less tailored to your preferences.
3. Browse your connections' profiles
This is another good way to find LinkedIn groups you wouldn't normally find through a simple search. Take a few minutes to see which groups your friends and colleagues are active in, especially those with similar professions and interests. It's also worth keeping in mind that your connections can see your groups as well. Be sure to only join groups that you are comfortable being associated with.


---
Canopy is a one-stop-shop for all of your accounting firm's needs. Sign up free to see how our full suite of services can help you today.