It's crazy to think 58% of accountants say they have accidentally shared the wrong file with a client due to poor communication and storage issues.* The right software empowers you to level up document management at your accounting firm. When you improve your file management workflow, a ripple effect happens and you'll find most other workflows at your firm are streamlined as well. We've identified the pain points most firms face today. Take a look at how document management software can solve these common issues.


Accounting firms without document management software deal with numerous issues, such as:
Disorganization
Using and paying for multiple tools to edit, store, and work on documents
Document sprawl, lost files, or not knowing which file is the most current version
Difficulties gathering necessary information and signatures for important client documents
Lack of or limited means to collaborate in context with internal staff
Antiquated and insecure means of gathering and storing sensitive client documents
Lost time and productivity trying to locate files

Accounting firms with document management software enjoy:
Organization
Document centralization in a single platform
Client and internal documents stored in one place
Fillable PDFs and automated reminders that make gathering client information faster
Better internal collaboration with annotations and comment feeds
A secure Client Portal for clients to upload, delete, and rename files
Secure links reduce friction gathering eSignatures and interacting with files


These broad contrasts give a small glimpse into the changes a document management software can bring to your firm. But it's often that we get caught up in our routines and it's hard to realize when we should shake things up to be more efficient and productive. We outlined the three main document management pain points for accounting firms, so you don't have to…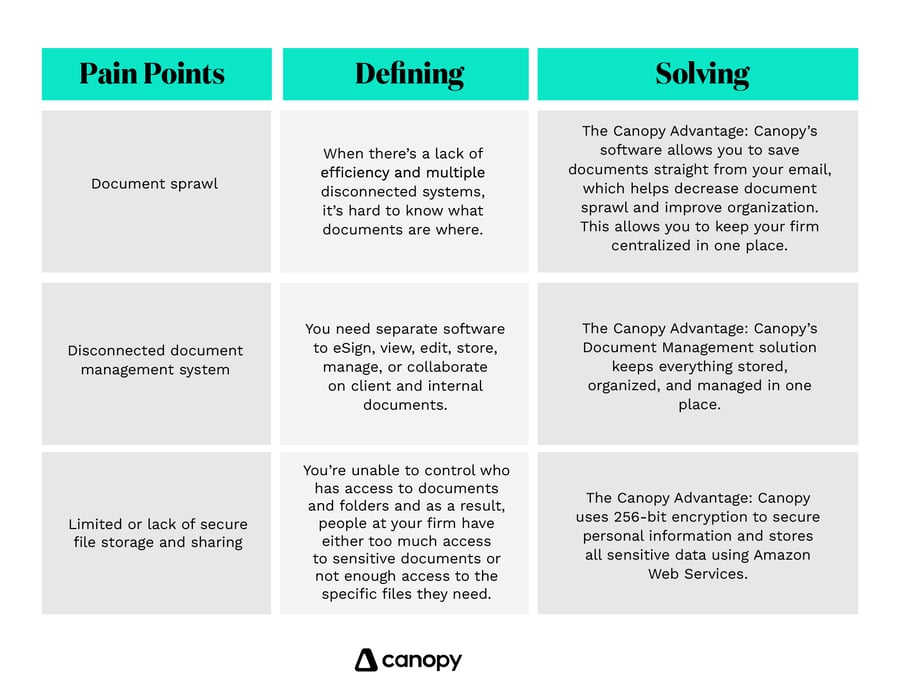 Now that you have an idea of the type of solutions that are there to help you with your document management pain points, it's time to put the solutions into action! Book a demo to learn more today.

*These statistics were provided by a Canopy-commissioned study from an independent research firm in September 2022 that surveyed 150 US-based accountants related to document management practices in their firms. The margin of error for this study is +/- 6% at a 95% confidence level.