Tom was always a curious person.
For more than 15 years, his tax practice was doing well. His clients were mostly high net worth business owners who got their business and individual returns prepared by Tom. Tom's firm also did accounting for some of them.
During the tax season, he had no time to think. But, oblivious to himself, with each tax return, he was depositing new questions in his subconscious.
He is now a shared CFO of 12 companies.
But he took up the CFO work by accident.
How?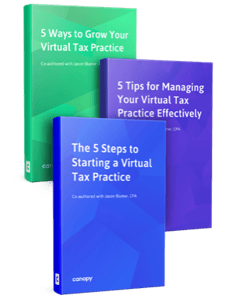 Get expert tips on everything you need to know about starting, running, and expanding your own digital tax practice. Co-authored by experienced entrepreneur Jason Blumer.
A Different Way of Thinking
Tom believes that it was his thinking power, armed with the CPA education, years of experience, and knowing which tools to use effectively to produce impeccable tax returns, that made the difference.
Plugging the numbers into the tax return never gratified Tom. While he was working out those numbers, he was first getting curious—and then frustrated—because his mind was trying to figure out how the numbers came to be. It was not per se the numbers that were frustrating him but it was how and why those number came to be.
He was visualizing the decisions taken—and those not taken—by the business owners that ultimately led to those numbers. And he was getting frustrated that even glaringly obvious choices were missed by some business owners, resulting in bad numbers instead of good numbers.
Getting into the Business
After his usual mini-vacation after every grueling tax season, Tom's mind went to work. He would start reading books but his mind would be writing books, correcting the bad numbers. Because he now had the hindsight that would allow him to make better business decisions.
Out of sheer chance, he himself decided to get into an import and distribution business.
The turnover? $6 million a year!
The numbers turned out great because, inadvertently through their mistakes, so many entrepreneurs had trained Tom to understand how to make good business decisions.
That's when Tom knew that he could be an effective (and successful) CFO. Tom's experience with a different kind of entrepreneurship not only succeeded in that business but it also gave Tom the "I know where your shoe pinches" value proposition for marketing his outsourced CFO services.
Working as an Outsourced CFO
As an outsourced CFO, Tom now helps business owners navigate the financial complexities by showing them:
how their business processes;

how their financial or operational decisions;

how their choices of technology;

how their decisions or indecisions;

everything;
turn into those numbers on the financial statements and tax returns—and more importantly, before those numbers form so that the business owners can make better decisions for their businesses.
Tom now routinely gets calls from CEOs of the client companies—more often than before when he predominantly did taxes and accounting—to seek his advice and guidance on major financial decisions to be made. It has led to an increase in interactions, which in turn has made Tom truly the most trusted advisor of his clients.
And Tom's average revenue from each of such "engagements" has catapulted so much that he now includes the business tax return for free in these CFO engagements.
The Accidental Insights


Be curious, very curious about the "why" behind the numbers

Understand client's business

Understand client's industry and relevant trends

Understand finance

Understand relevant tax laws

After the fact: Connect the dots for the client

Before the fact: help client connect the dots
One more thing. Last year, Tom acquired an accounting firm in the neighborhood to get the accounting done as real time as possible so that he could wear his CFO hat and look at things as they are happening. The acquisition was easier with the higher profit Tom was making as a CFO, and it was a perfect strategy as Tom can control and direct how the accounting should be done right the first time, instead of the usual past process of correcting the accounting mistakes that invariably creep in when non-professional accountants create the books.
Want to read more from Hitendra Patil? Check out his LinkedIn profile here.
Interested in learning about more ways to grow as an accountant? Download our free ebook series about starting a virtual tax practice here.