2019 was the second tax year affected by the Tax Cuts and Jobs Act. Most regulations stayed the same as in 2018, but there are a few changes and adjustments to be aware of when helping your clients file their returns this tax season.
1. Tax rates and brackets
For tax year 2019, there are seven tax rates: 10%, 12%, 22%, 24%, 32%, 35%, and 37%. The tax brackets adjusted for inflation are: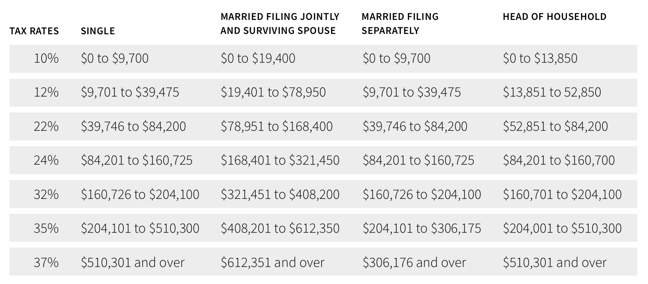 The tax rates for trusts and estates are: 10%, 24%, 35%, and 37%.

2. Increased standard deduction
The standard deduction for single taxpayers and those married filing separately increased by $200 to $12,200. For taxpayers who are married filing jointly, the standard deduction increased by $400 to $24,400, and for heads of households the amount increased by $350 to $18,350.

3. Changes to tax credits and deductions
While most deductions and credits remained the same for 2019, a few things have changed that will affect 2019 returns.
Lifetime Learning Credit
The adjusted gross income amount used to determine the Lifetime Learning Credit is $116,000—$2,000 higher than in 2018.
Foreign Earned Income Exclusion
The foreign earned income exclusion is up $2,000 from 2018 to $105,900 for the 2019 tax year.
Medical expenses
The "floor" for deducting medical and dental expenses increased to 10%, up from 7.5% in 2018.
The Saver's Credit
The income limits for the Saver's Credit have increased to $64,000 for those married filing jointly, $48,000 for heads of household, and $32,000 for single taxpayers and those married filing separately.
This post is an excerpt from our ebook 7 Things to Know for Tax Year 2019. You can download the whole thing here.