Audit defense is one of the easiest and most affordable ways to increase annual recurring revenue for your practice. Audit defense simply establishes that for a small fee, you'll provide a predetermined number of hours of work on your client's behalf if they are contacted by the IRS. Most likely all you'll have to do is respond to an automated notice, which you're probably already doing for free.
Plus, only 1 in 200 taxpayers is audited by the IRS, so the likelihood of you having to spend a lot of hours helping a client with an audit is pretty low.
And we've made it really simple to get started. We're offering a free kit that includes all the materials you need to implement audit defense in your practice.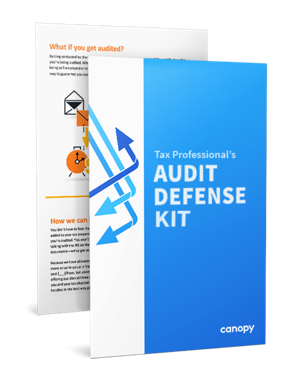 Click here to download the kit.
Included in this kit


Instructional video
Checklist for getting started
Professionally designed client brochure
Professionally designed client notification letter
Opt-out form
How it works
Adding audit defense to your practice can be done in three main steps.
1. Customize the materials in your free kit to fit your company
2. Send the materials to your client before you prepare their next tax return
3. Add the audit defense fee to your client's invoice
You will automatically enroll your clients in your audit defense plan unless they specifically opt out. If clients do opt out, you can charge them your hourly rate for audit services. However, because enrollment is automatic, practices that have implemented services like this see the grand majority of clients choose to stay opted in.
Quick facts to know


All the materials in the downloadable kit are customizable so you can tailor them to what works for your practice and clients.
Audit defense is an easy way to provide a much needed service to your clients and get paid for work you're already doing.
Audit defense is not insurance.
The number of hours included in your audit defense plan and the cost of your plan completely up to you.
Want to get started earning hands-off, recurring revenue for your practice? Download your free audit defense kit here.