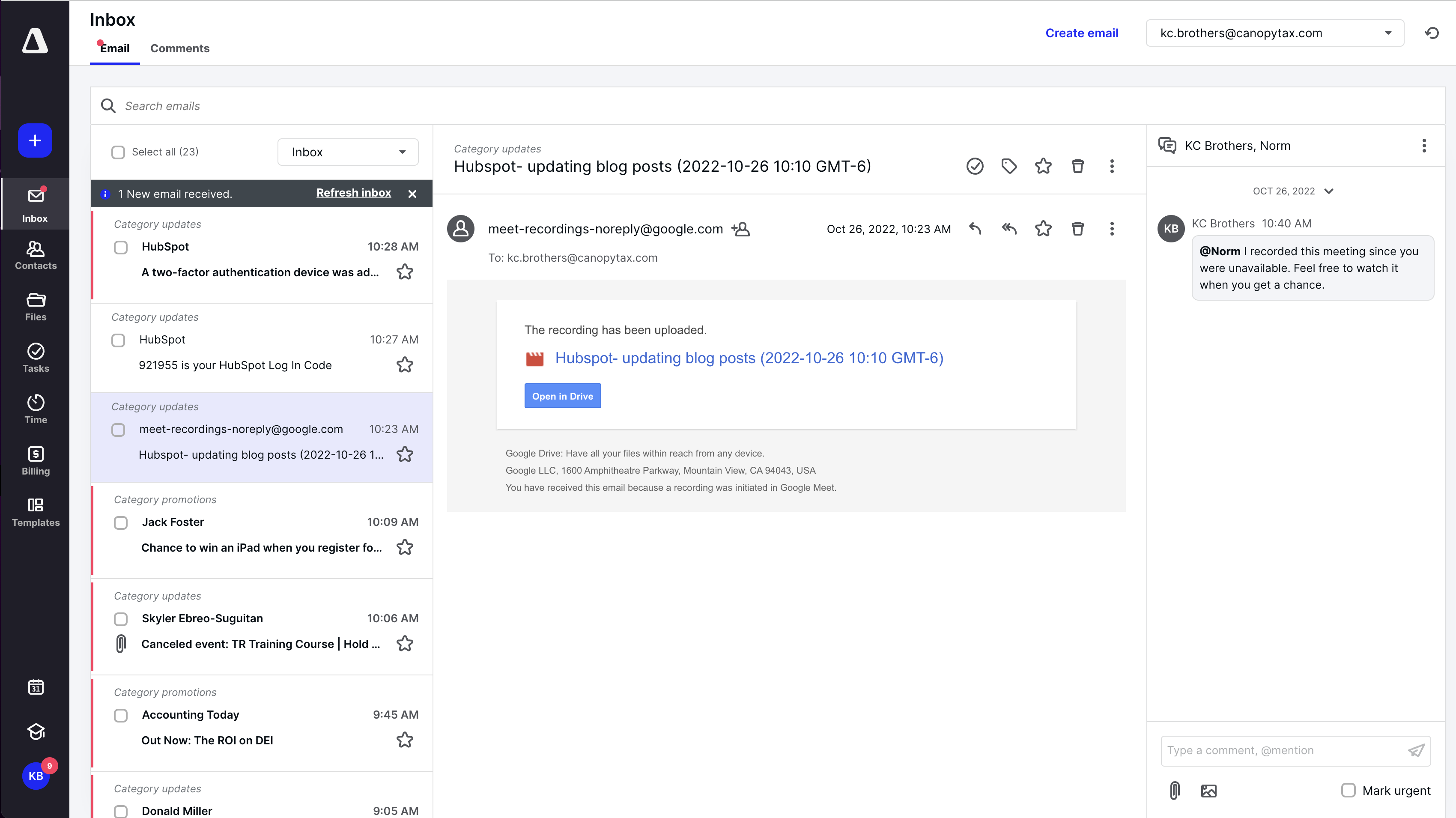 What's new:
Within emails and the Global inbox, you will now be able to have conversations in the right context, thanks to our new sidebar feature. When viewing an email, instead of forwarding it to a colleague to ask a question or even having unnecessary and redundant back-and-forth emails with a client, you can simply start a conversation with a colleague in the sidebar. Conversations in context allow for:
Less back and forth
Faster, more efficient internal communication
Greater displays of professionalism to clients
Fewer meetings
Less confusion
Once a conversation has been started and a coworker has been tagged, or @mentioned, you will then be able to locate that conversation directly on the email thread within the email inbox or in a new tab in the Global Inbox, called the comment inbox.
You will also have new notifications for these comments, whether you're being notified of a new comment on the thread, or you've been @mentioned in a new thread or a response.
Things you can do within Comments:
@Mention a Colleague: This adds them to a comment thread and notifies them about a message.
Reactions: Mark a comment as urgent, complete, or unread; like a comment.
Set Reminders: Choose from pre-populated intervals or create a custom time to be reminded.
Date Jumping: Easily jump to a date within the comment thread; particularly useful when the thread is long.
Attachments: Attach a file or image.
Set permissions: Control who can view, create, reply to, react to, and edit comments as well as you can remove team members from comment threads.
Places Comments & @Mentions are available:
How it works:
When viewing an email, if you need to ask a colleague a question or ask them to complete a task that can be done quickly, simply click on the comment box on the right and a side menu will fly out.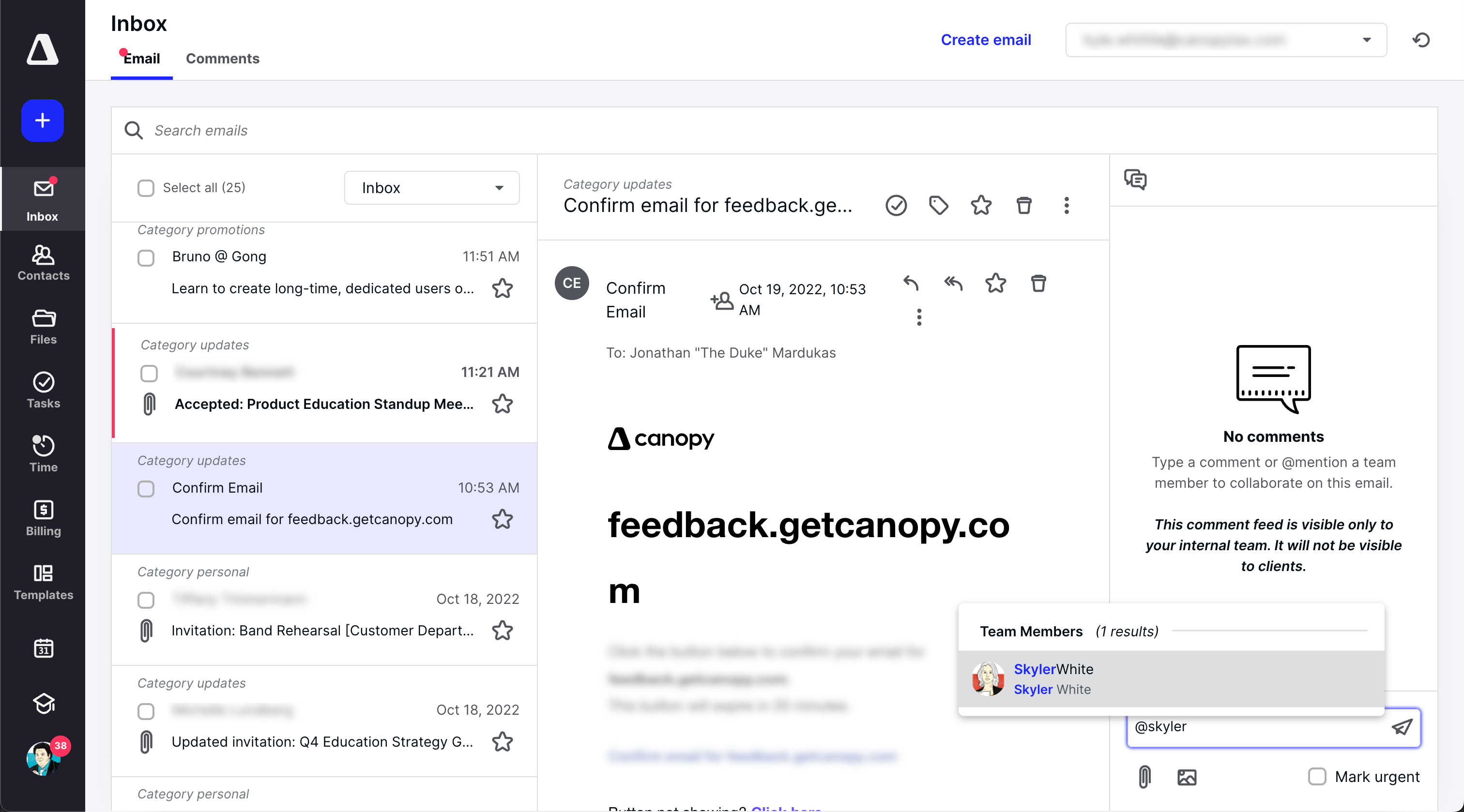 Tag/@mention a colleague to begin a conversation. They will receive a notification as a banner, badge, or email.
Once a conversation has been started, you will be able to manage them from the comment inbox. When there are several conversations based on different emails and clients, using the comment inbox will be the easiest way to manage those conversations.
After accessing the Global Inbox from the Global Menu on the left, you'll see you now have two inboxes to choose from at the top of the screen. Select the comments tab to see a list of all conversations you have.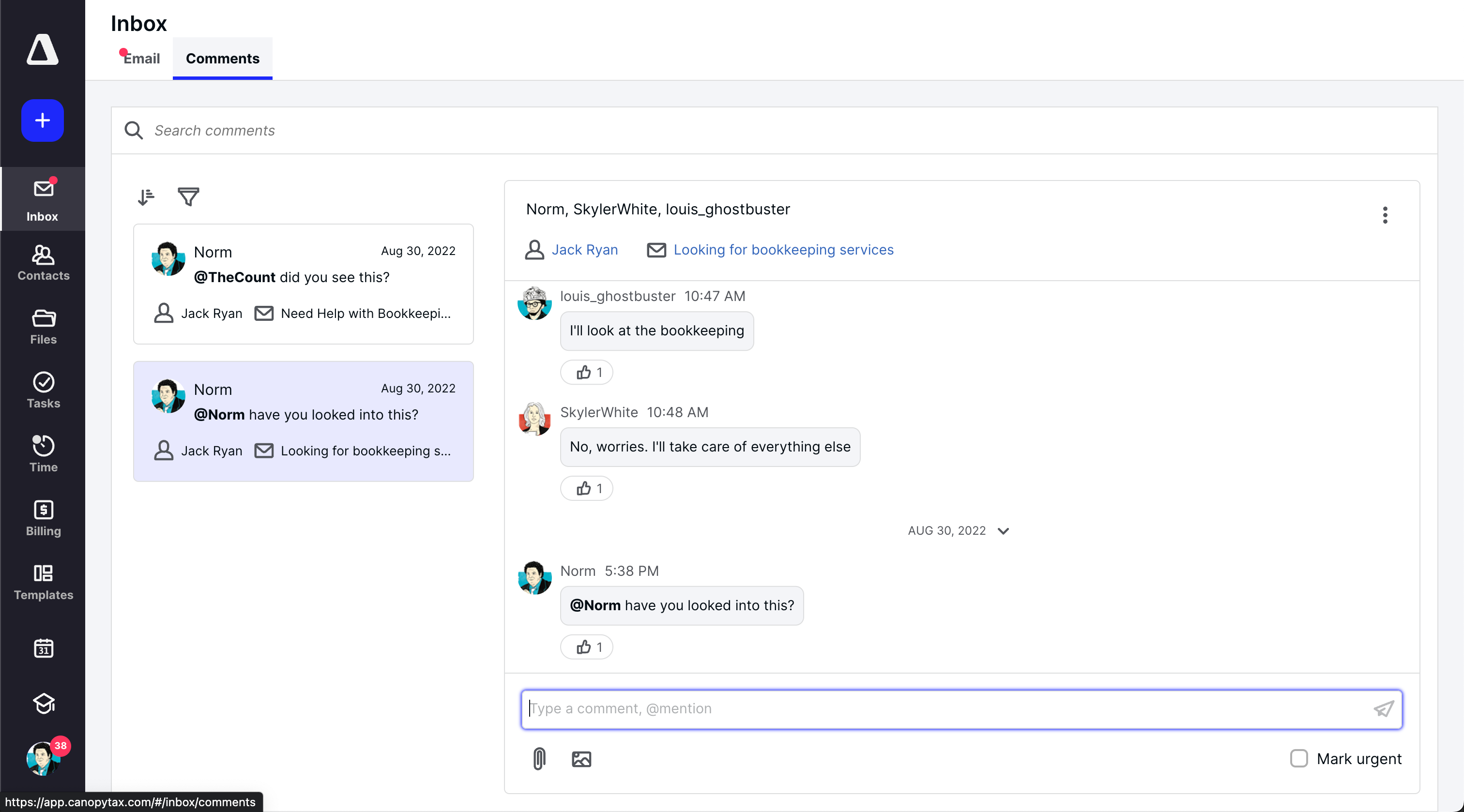 In the comment inbox, you'll see a red line indicating an unread message. You will also be able to sort, filter, and search all comments. The client's record will be hyperlinked at the top of the comment thread as well as the email.
Why it matters:
Conversations in context save time and effort. It can be exhausting and frustrating to over communicate. It is not a skill that comes naturally to many of us. By having a conversation in context, it saves us from having to provide context for our comment or question. It also saves the person on the receiving end from being caught off guard or out of context and, thus, feeling confused and having a plethora of questions.
You and your firm will be able to operate faster and more efficiently as you have conversations in context.
Where to find it:
Client Management module.
Get started:
Find more information by clicking the links below.
Remove a team member from a comment feed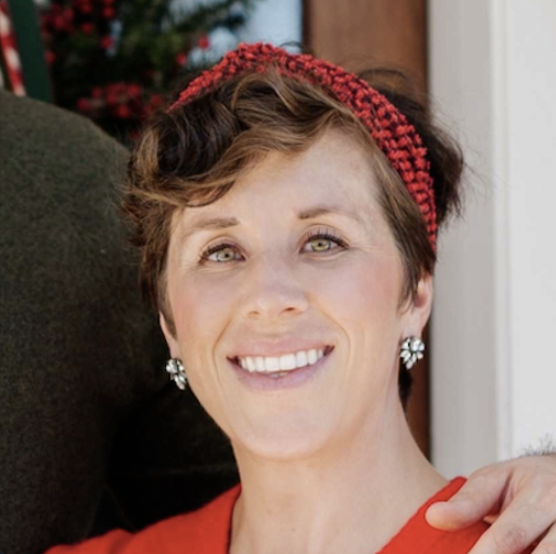 KC is a senior product marketing manager at Canopy.
READ MORE BY KC