Word-of-mouth referrals are more likely to result in high-quality clients because your existing clients generally only reach out to their contacts they know will be a good fit for your services. In fact, 82% of Americans say they look to friends and family for advice when considering a purchase.

However, people simply aren't likely to recommend your firm to their friends and family unless you ask them to do so. Learn more about the steps you need to take before asking for one, how to ask for a referral from a client or professional peer, and what you should do afterward!
Client & Professional Referrals
What does a client referral mean?
As one of the most common word-of-mouth referrals, asking existing clients for leads on new clientele is low-hanging fruit. Getting referrals from happy clients is one of the most effective ways for accounting firms to get new business—even more than social media or email campaigns.
What does a professional referral mean?
Another fantastic source of referrals is from fellow accounting professionals. If some of your peers don't have an interest in providing certain services to their clients, like tax resolution, they may be happy to refer that work to a professional they trust. If you can become that professional in your area that your peers can refer business to, you will have a constant stream of new business flowing from the other tax preparers and accounting professionals in the community.

This approach works best when you take the time to get to know your fellow accounting professionals. Attend local seminars and other events and take the time to network. As you get to know your peers, you can identify those whose clientele will most often have substantial tax or accounting problems (often small business owners).
3 Steps You Need to Take First Before Asking for Referrals
Even if you are convinced that referrals are a good thing for your accounting firm, it can be a challenge to generate those recommendations from your existing clients. There are a few steps that need to be taken prior to asking for referrals from your clients and peers. Continue reading to see what those steps are!
1. Satisfy your current clients
If your current clientele is not pleased with your services, there's no way they will recommend your accounting firm to others. When your best clients are satisfied, they will be enthusiastic about sharing information about you. Remember that the best referrals come right after your client has had a chance to experience your exceptional services and recognizes the value that your firm delivered for them. When you exceed expectations, clients want to send their associates your way. If your firm under delivers, clients will have negative things to say about you.
2. Identify your promoters using the NPS
If you're not familiar with what a Net Promoter Score® (NPS) is, it's a one-question survey that is used to measure customer loyalty. The NPS is sent out to clients asking how likely they are to recommend your business, product, or service to a friend or colleague. Clients are asked to respond on a scale of 1-10 - the ratings are as follows:
0 - 6 (Detractors): Clients that submit a rating between 0 and 6 fall into either unhappy or neutral respondents. The chances of a 'Detractor' referring your business is slim, but this is a good opportunity to follow up with them asking for their feedback on how to improve. There is always the possibility of transforming a 'Detractor' into a 'Promoter.'
7 - 8 (Passive): Typically categorized as satisfied clients, people that submit a rating between 7 and 8 are not entirely loyal and are susceptible to taking their business elsewhere.
9 - 10 (Promoters): Clients who rate your services or products at a 9 or 10 are highly satisfied and the most likely to refer your business to their friends, family, or colleagues. Take advantage of this rating system because it can help you quickly identify who is the most qualified client to ask for a referral from.
3. Create a referral script
It can be difficult to ask clients for referrals, so creating a referral script can reduce anxiety and help you get the results you want. Instead of bluntly asking for a referral, take the time to recap some of the ways your accounting firm helped relieve your client's unique problem. Be clear about how your business relies heavily on word-of-mouth from happy clients and that you'd appreciate a referral to an individual or business that might benefit as well. State the ideal kind of client you are looking for to jog their memory and make it easy for them to provide you with the contact information.

Many firms use a brief questionnaire or form for this to capture the referral's name, position, and company contact information, especially their email address. It's important to note your client's relationship with the referral as well to make your initial contact go more smoothly.
How to Ask for Referrals from Clients & Professional Peers
1. Reach out to your promoters
First and foremost, don't hesitate to ask your existing clients for referrals. Leverage your knowledge of who is and is not a Promoter because it will make this process much easier for you since they are the most likely to refer your business to their friends, family members, peers, and colleagues.

When asking for a referral from a Promoter, be specific with your question and ask if they have any friends or people they like and can benefit from professional accounting services. It's best to get a referral from a person that the client has a good relationship with versus an acquaintance they share a lukewarm relationship with.
2. Incentivize Your Existing Clients
According to a 2016 Harris Poll, 88% of Americans say they would like some kind of incentive for recommending a business, and 77% say they would specifically prefer a cash incentive. That means that you can harness the power of referrals by providing cash incentives to both clients and professional peers who successfully refer a new client to your practice.

This method of incentivizing referrals can be particularly effective when applied to your tax resolution services. Since tax resolution typically commands high rates, offering substantial incentives is attractive for your clients and a high-return investment on your part.

Structuring your referral program this way is also a very safe investment since the referrer only gets paid if the referral actually becomes a client. The exact dollar amount you offer as an incentive to both parties is up to you but should be enough to be enticing without being so much that it cuts significantly into your profits.
3. Ask for Referrals Face-to-Face
When your best clients are satisfied with the work you are doing, it's appropriate to incorporate asking for a referral after a positive development in their project and making it a personal event. You'll get the most benefit if you ask for a referral in a face-to-face conversation. While phone calls and emails are acceptable substitutes if an in-person meeting is not possible, a face-to-face request increases the chances of your client doing you this favor. Of course, never ask for a referral when you are discussing billing or delivering an invoice.
4. Propose a Mutually Beneficial Arrangement with Professional Peers
When it comes to asking for referrals from a professional in the industry, you can approach them with a proposition for a mutually beneficial arrangement similar to your client referral program. Similar to the cash incentive strategy mentioned above, this can take the form of local accounting professionals referring their clients to you when they're in need of tax resolution or another service they cannot provide, and you pay them for each referral they send you.

Referral arrangements between professionals often take the form of a percentage of your earnings for each referred case for the referring accounting pro, and an exclusive discount on initial consultations for the clients they refer.

It can seem off putting to ask a professional in the industry for a referral because it may seem like you're trying to take away their business, but that's not the case! Clients want their accountants to resolve a problem they have, whether it's assisting with income taxes, working through a tax resolution case, or any other issue they are dealing with. However, sometimes that issue may be outside of their scope of expertise. Which is okay to admit because the majority of accounting professionals just want to help their clients, and that sometimes takes the form of referring them to their professional peers. So don't hesitate to ask your colleagues or other professionals in the industry for a referral.
You Have a Referral, Now What?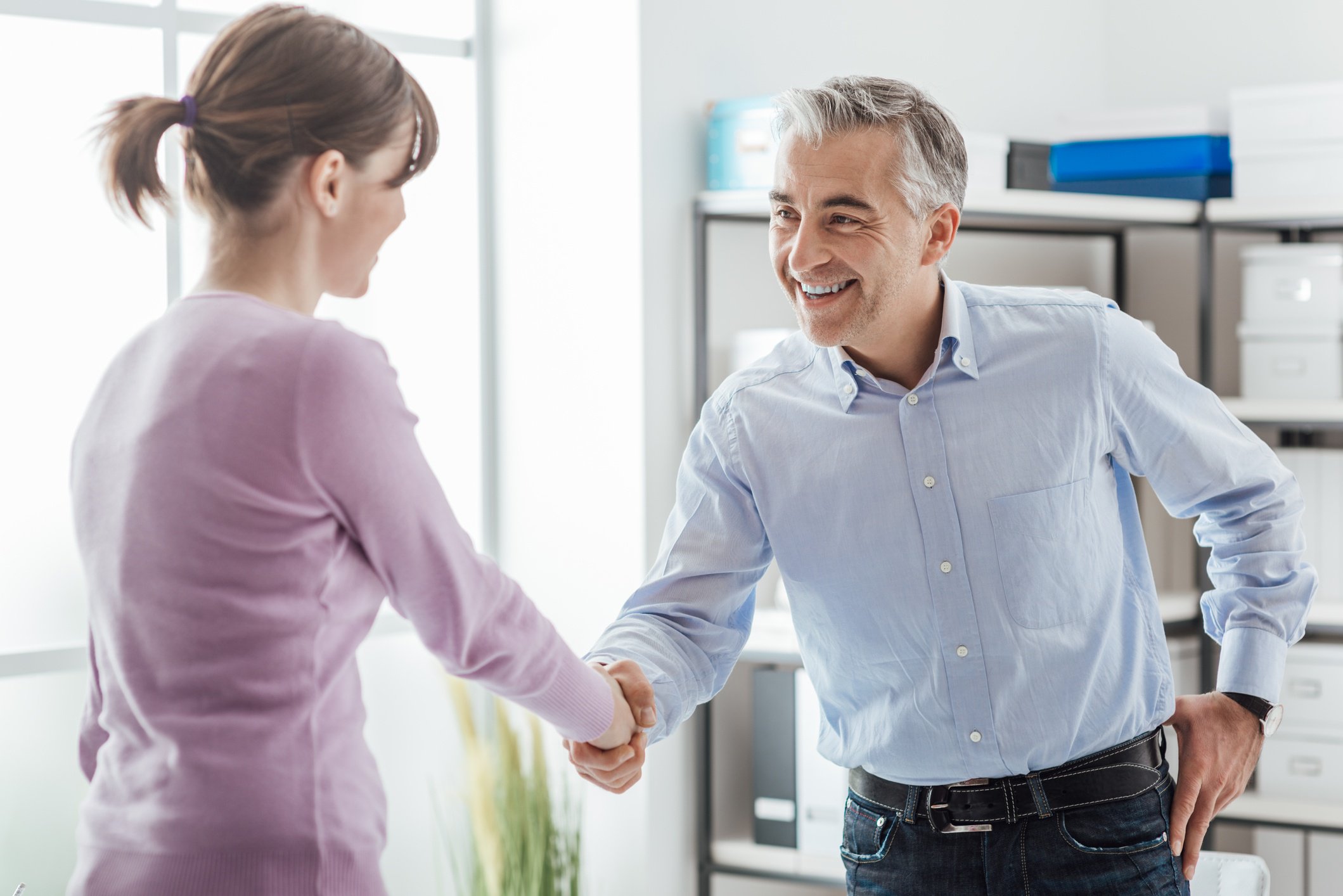 Reach out to referrals right away
Once your client has provided contact information for their referral, you should reach out as soon as possible. However, there are proper ways to do so without coming on too strong or alienating them. Your initial contact with them will likely be via email or a phone call.

In your verbal or written conversation, bring up your client's name very early to establish trust and explain the reason for the contact. Talk about your accounting firm and what you do. Quickly segue into their needs and what they might want, rather than a laundry list of your services. This means asking them questions about their financial goals, current challenges, and what their priorities might be. Ultimately, your initial contact should end with a request for further communication.
Make plans for continued contact
Not every referral will convert to a new client right away. In fact, it may take some time before they feel the need to connect with you. That doesn't mean it is a wasted opportunity. You must implement a plan to connect with all the referrals you've received at least once per quarter. Plan for ways to create face-to-face time with them, such as inviting them to community education events you host. Newsletters, social media, and other methods of reaching out to potential clients will ensure your firm will be in the right place when the referral finally decides they really do need your accounting services.

It can be difficult trying to remember who you have and have not reached out to, who you should follow up with, or who is no longer a qualified lead. A CRM designed for accountants can help you stay organized and up-to-date on existing and prospective client information, as well as automates follow-up communication saving you valuable time.
Continue to send out reminders
Once you have a referral program in place and you've started reaching out to prospective clients, make sure to remind people about it frequently. Consider putting information about your referral program:
On a flier or card detailing the program to each client once at the start of their case and again when you close the case out
On your website
On your blog (perhaps in the form of a case study)
In your monthly newsletter.
On a sign or poster in your office
Whatever you do, don't assume people will just refer their friends and family without being prompted.
Build a Better Clientele by Asking for Referrals
By getting referrals from your best clients, you'll generate a lot of opportunities to build better clientele. By tapping into the power of word-of-mouth referrals, you'll increase your direct connection to qualified potential clients that already have a built-in trust with your existing clients. Building the referral process into your current customer service process is well worth the investment of time and effort.

Do you want to learn more about how to market your firm? We have an ebook filled with practical marketing advice, including sample text you can use in emails (or anywhere else) to ask for referrals from both professional peers and clients. Download it for free here!