There are 1.2 million tax preparers in the United States. What sets you apart from your competitor down the street? It's not the quality of your work, as that's impossible to prove, and no one wants to be the cheapest provider. The secret to differentiation is a niche—meaning you must identify your personal specialty and advertise it directly to your target market.
Identifying Your Specialty
Technically, you may be able to help virtually any business with their tax needs, but the reality is that you can't help them all equally—there is a tax service or an industry that you know better than the rest. When you identify that area and market yourself to those potential buyers, you will see your top-line revenue grow much faster.
If more than 10 percent of your revenue comes from the same specific service or industry, you have a specialty. If your revenue is spread out amongst more areas, pick the one that makes up the largest percentage of your revenue and build a specialty around it. Don't guess what industries or services your revenue comes from. Segment it.

Segmenting Your Revenue
Start with a spreadsheet where each column is an industry you serve and each row is a service you offer. Next, plug each dollar of your revenue into the cell that indicates what service you performed and the industry that client works in. Lastly, add up the columns and rows and calculate the percent of your total revenue that each industry represents.
You can identify your client's industry with NAICS or SIC codes, or by simply assigning them to your own categories like "construction," "hospitality" and "healthcare." When it comes to listing what service you performed for the client, be as specific as possible. Use categories like "tax preparation," "tax planning" and "tax representation." If you don't bill at this specific of a level and bill in a lump sum instead, segmentation will be difficult as you'll need to make assumptions as to how much revenue each service generated.
Now that you know where the bulk of your revenue comes from, you can strategize ways to reach the industries and services you choose to specialize in.
Defining Your Target Market
Get to know your target market better. What are the biggest issues potential clients in this segment face? Where do they get information to help them run their businesses (e.g., publications read or events attended)? You will find this information by conducting research. You can use the internet for background information, but your best findings will come from one-on-one conversations with potential buyers, other business owners who sell to the same buyers and even your competitors.

You may be wondering how many specialties you can have. While there isn't a hard and fast rule, keep in mind that the fewer specialties you have, the more successful you will be at targeting your marketing efforts. Specialties that are more closely related like doctors and dentists will be easier for you to tackle at the same time than retail establishments and manufacturers. Having several unrelated specialties puts you at risk for spreading your expertise too thin. In most cases, a single individual cannot have more than three specialties, and that may even be too many.
Setting Your Strategy
At this point you have a clearer idea of the services you sell to a specific target market. Now, you need to decide how you will reach those targets. With an endless number of marketing strategies to consider, you can quickly become overwhelmed trying to decide what is worth the investment. With a specialty in mind, this becomes much easier. If you decide you are going to work with restaurants, do you consider sponsoring an event for homebuilders? Of course not, because homebuilders are not your target market. You will now be better equipped to decide how you spend your limited time and resources.

The marketing tactics you can use are endless. However, if you take time to talk to your target clients and listen to what they tell you about their business and industry, you will begin to see trends. From what you learn, you many need to:
Attend an event that your target clients attend to meet prospects.
Write an article for a publication your target clients read.
Launch a quarterly roundtable for your target clients where you discuss issues that are important to them.
The market is telling you where you need to go—you just have to capitalize on it. By doing so, you will get more leads, more referrals and your win rate will go up as you prove you have more industry knowledge and expertise than the professional down the street. It goes against your natural instinct, but thinking smaller is what will help your company grow.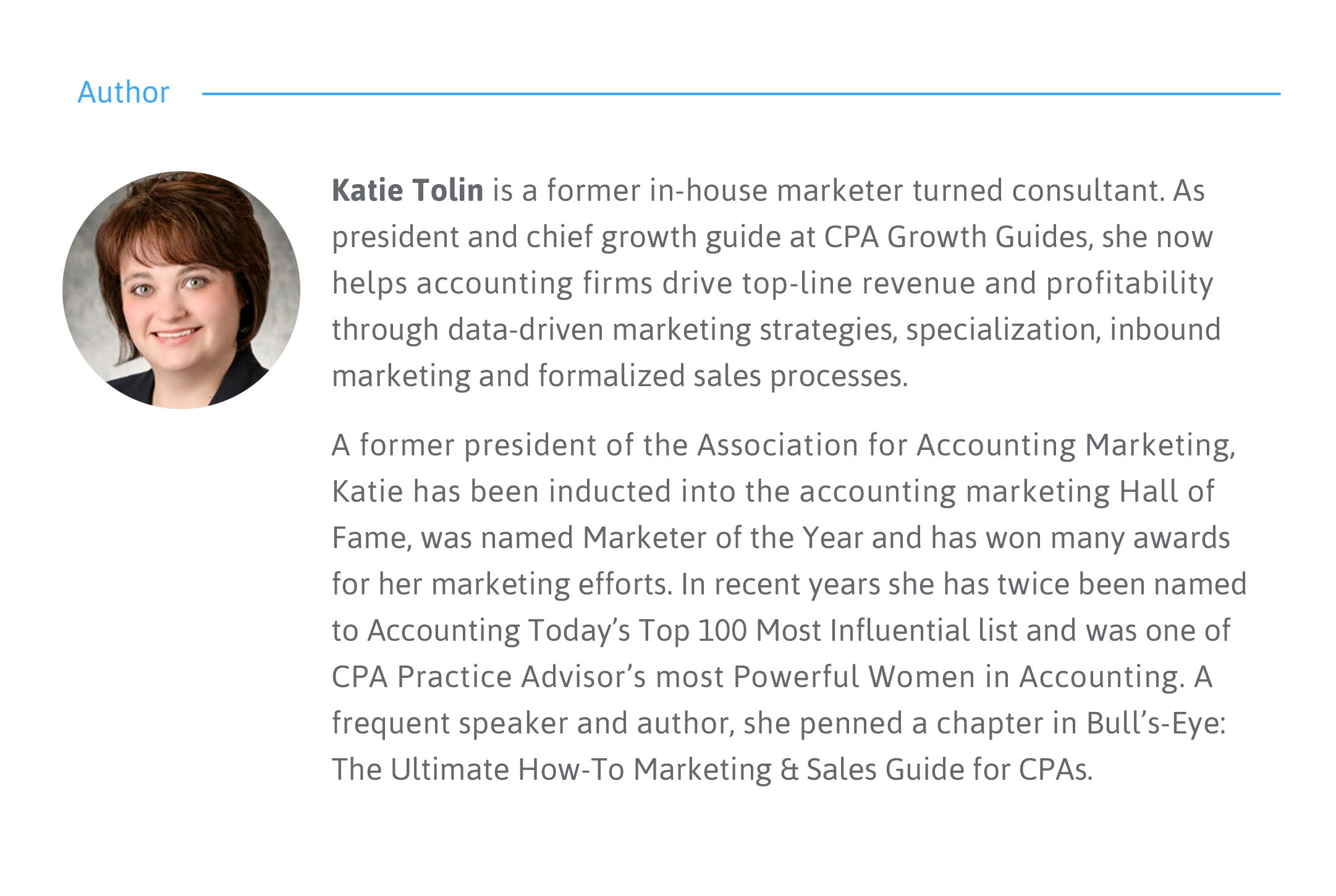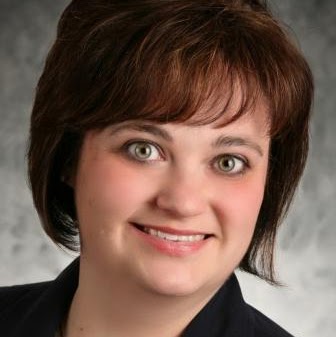 Katie Tolin is president of CPA Growth Guides where she helps firms and other businesses in the accounting industry connect the dots between strategy and action to ensure they receive a positive ROI for their growth efforts.
READ MORE BY Katie