Unless you're one of the lucky few tax pros working from a home office, you're in constant need of something useful to do on your commute. The good news is that the rise of podcasting has unlocked a nearly unlimited access to information that you don't even have to read—a huge benefit if you commute by car. And because the podcasts can be—and often are—so specific, you can carefully curate your podcast playlist to deliver you the information you want, when you want it.
We've put together a list of our 10 favorite podcasts for tax pros for your listening and learning pleasure.
1. The Accounting Best Practices Podcast
The Accounting Best Practices Podcast is one of the most popular tax-related podcasts out there — downloaded more than 2.8 million times. The host, Steve Bragg, covers everything from best practices to technology and investor relations to payroll.
2. Big 4 Accounting Firms

Every move made by the Big 4 affects the accounting industry, and this podcast delivers all the latest news, moves, and developments. Even if listeners are not with a Big 4 firm, they can learn a lot about the industry by paying attention to them.
3. THRIVEal

The THRIVEal podcast may have been created simply to prove that accounting conversations don't have to be dry or boring. Jason Blumer and Greg Kyte (who is also a comedian) are the hosts of this high energy podcast, covering a huge range of topics—from business leadership skills, to how to choose which services to offer your clients. They even manage to be informative while they entertain you.
4. Grow My Accounting Practice
Grow My Accounting Practice is another podcast dedicated to the business side of running a tax practice. Run by Mike Michalowicz and Chris Curran, this podcast is dedicated to helping accountants learn skills vital to making their practice thrive and grow, including marketing, pricing their services, hiring, and managing employees.
5. Your IRS Weapon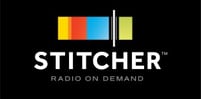 Travis Watkins' podcast "IRS Weapon" is aimed slightly more in the direction of clients than professionals, but that's no reason for you to ignore it. Watkins focuses his podcast on hearing and answering clients' concerns. In other words, you get to listen to your target market talk about their wants and needs. If you're a tax professional with clients, there is a lot to learn by listening carefully to your target market.
6. EntreLeadership
Built around principles espoused by legendary finance and small business personality Dave Ramsey, EntreLeadership is a must-listen podcast for people with an eye toward running any kind of business. Though it isn't hosted by Dave himself, Ken Coleman interviews some of the most high-profile business guests you'll find anywhere — from Seth Godin to Mark Cuban.
EntreLeadership isn't specifically tax or accounting minded in its approach, but the principles of business leadership that Coleman discusses will make you a better tax pro.
7. The Green Apple Podcast
Starting out on the lighter end, The Green Apple Podcast is hosted by self-described "recovering CPA" John Garrett. He uses the podcast to explore all the cool things that accountants, consultants, lawyers, and other professionals are doing outside the four walls of their office and how those hobbies impact their careers in surprising ways.
8. The Journal of Accountancy Podcast presented by AICPA
This podcast is hosted by various editors at the Journal of Accountancy, including Chris Baysden, Courtney Vien, and Jeff Drew. They cover a wide range of topics to help busy accountants stay up to date with the latest trends and happenings in the industry. Topics include networking secrets that will help advance your career, fraud red flags, and the secrets to opening a new CPA office.
9. The Accounting Today Podcast

Yet another podcast presented by one of the leading accounting publications, The Accounting Today Podcast is a pleasure to listen to. Accounting Today's editors bring on thought leaders from across the public accounting profession to discuss topics ranging from blockchain and tax reform to increasing the value of your work and new pricing strategies.
10. Future-Proof
Host Bill Sheridan discusses how to "future-proof your organization and your career in a complex and chaotic world." He chats with thought leaders from across the industry to have some fascinating conversations about all the business-centric things your practice needs to succeed long term.
Looking for even more podcast suggestions? Check out 9 Podcasts for an Accountant's Morning Commute.
---
Canopy is a one-stop-shop for all of your accounting firm's needs. Sign up free today to see how our full suite of services can help you.