Whether you're just starting to offer tax resolution at your practice, or you're a tax resolution veteran looking to update your pricing structure, it pays to be aware of how other tax professionals are pricing their services. Studying a broad range of pricing options will help keep your practice competitive and up-to-date on pricing trends. So while we can't tell you exactly how much your specific practice should be charging for an offer in compromise, we can tell you how much other practitioners are charging so you have everything you need to make an informed decision.
Just want the pricing report?




Initial consultations
Initial consultations are vital for building trust and evaluating your clients' needs. But how much should you charge for this first meeting? There are three common philosophies for how to charge for initial consultations: free, low-priced, and high-priced. Let's take a quick look at why you might choose each.
Free consultations
Offering free initial consultations is a good way to get potential clients in the door. Because it's free, there's no risk for the client seeking to solve an intimidating problem. If they don't qualify or their case is unlikely to be successful, they don't lose anything.


Low price consultations
When Kurt Avarell, Canopy's CEO and founder, worked as a tax attorney in New York City, his firm typically charged between $250 and $350 for an initial consultation. Charging a small initial consultation fee ensures that you're working with clients who can actually pay you. Just as important, it will help clients to see your time as valuable.

High price consultations
If your practice specializes in working with high-end individuals or businesses (or you would like to), you will likely benefit from charging much more for your initial consultation. Michael Rozbruch, a leading tax resolution expert, advocates for initial fees in the $1,250 to $1,500 range. Remember though, if you choose to charge premium prices for your services, your clients will expect a premium experience with premium results.

Looking for more details on how tax pros price their tax resolution services? Download our free Tax Resolution Pricing Report for 2019.
Hourly, flat fee, and hybrid billing
Just like the initial consultations discussed above, there are several ways to price tax resolution services as part of a full-service engagement. Hourly billing, which was once the industry standard for pricing, has lost ground to flat fee and hybrid style billing in recent years. According to Canopy's 2019 Tax Resolution Pricing Report, about 28% of practitioners still primarily bill by the hour, with the remaining 72% employing a flat fee model.
Other options
These, of course, are not your only options for pricing your own services. Other practices charge prices that vary from the methods that have been mentioned.
Finding a pricing system for your tax resolution services can be difficult at first but using other established practices as references for where to start can make the process easier.
Looking for even more information about tax resolution pricing? Our free Tax Resolution Pricing Report looks at details such as how much tax professionals across the country charge for individual services and how much time they spend on those services.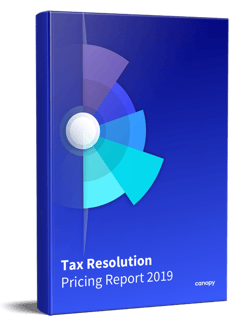 This post was originally published on June 6, 2016 and has since been updated.