Accountants are the experts on personal and business finances for their community, ensuring they are operating efficiently and helping their clients manage their money. The profession of accounting has a respected reputation, attracting many young adults to the profession.
It is well-known that accounting is one of the most versatile college degrees, with applications in just about every industry. Of course, anyone looking at a career in accounting should assess every aspect of the profession, including salary expectations.
Accountant salary outlook
The average starting salary for general accountants with a four-year degree and a year of experience is just over $46,000, according to the Bureau of Labor Statistics. This higher-than-average starting salary is definitely one of the things that attract business students to an accounting program. As with most careers, salaries are wide-ranging, based on degree earned, experience, specializations, and area of the country and the hiring organization.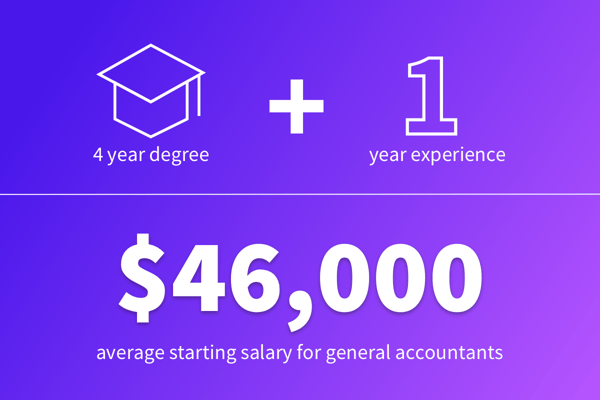 From state to state and in regions within each state, accountant salaries will range widely. Of course, large private firms in the country's large metro areas will pay the most, due to the types of clients and the cost of living. According to Roger CPA Review, the highest paying cities for accountants include San Francisco, New York, Houston, Atlanta, and Dallas. For many people, however, the highest salaries aren't necessarily what they want. Instead, a balance between salary, cost of living, career opportunities, and job availability all factor in.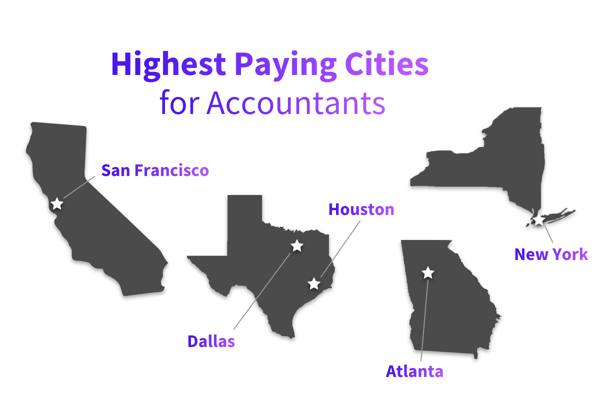 Accountant job outlook
The good news is that the job outlook is promising for accountants. While many other industries show a downward trend for job growth, the demand for accountants is projected to rise. The Bureau of Labor Statistics forecasts that accountant positions are expected to grow approximately 10% between now and 2026. Specialists within the accounting industry, such as auditors, financial analysts, and controllers are similarly expected to grow at or above that same rate.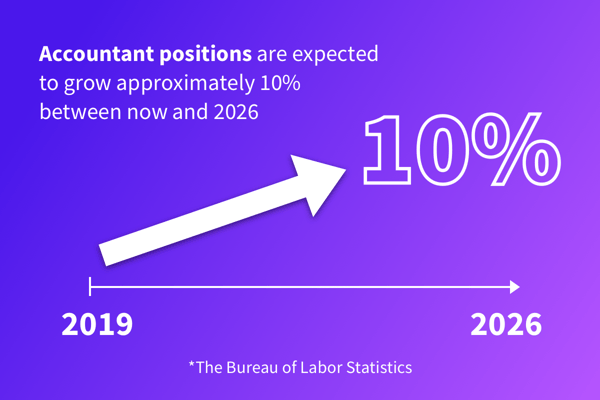 Accounting jobs are quite dependent on the health of the state and national economy, as the businesses they serve are closely tied in. A growing economy generally signals the need for more accountants, while a shrinking economy tends to lower the demand. Of course, with globalization and increasingly complicated tax and finance laws and regulations, there will always be a need for competent accountants, especially those with in-demand specializations.
Getting the best salary possible
For those seriously considering a job in accounting, there are several things they can do to ensure they get the best salary possible. Education is a big factor, and most entry-level positions require at least a four-year degree. The high-status accounting and business firms will see more competition for those spots, as well.
Specialization within the field of accounting is one of the best ways for professionals to stand out and earn a bigger salary. Professional certifications such as Certified Public Accountant (CPA), Master of Business Administration (MBA), Enrolled Agent (EA), Certified Financial Planner (CFP), and Certified Internal Auditor (CIA), are just a few of the top accounting certifications that firms and businesses find attractive.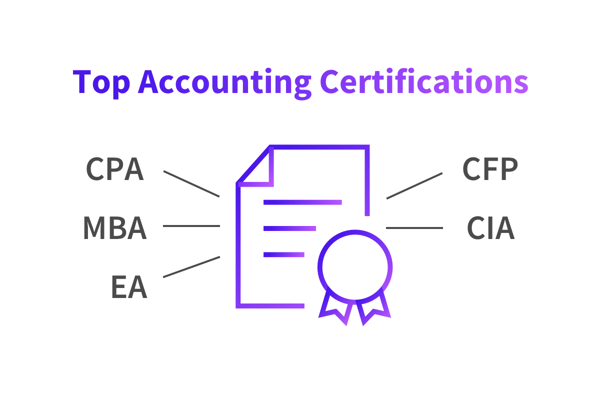 One area that is quickly proving to be a highly desired specialization for an accountant is technology expertise. Due to the shift in the way businesses operate and the increased reliance on technology to operate, accountants with experience or education in tech fields can boost their marketability. From cloud computing and mobile accounting to innovations in accounting software, accounting information technology is sure to transform the job market and salary expectations for recent grads.
Interested in taking the CPA route? Check out How to Become a CPA.