Instagram shouldn't be overlooked when developing your social media strategy. It's rapidly gaining popularity, and Instagram influencers are popping up in all different industries. Instagram can be a creative way to reach out to your current and potential clients and show them more of your personality. In this blog post, we go over a few tips for getting the most out of your profile.
Post at the best times
The best times to post on Instagram are 2am, 8-9am, and 5pm. You should avoid posting from 3-4pm and during work hours in general—Instagram users are more likely to engage with content during their downtime.
Just like with Facebook, it's a good idea to look into the best times for your specific audience since they may differ from general best times. To find that information, navigate to the "Insights" icon in the top right corner of your profile screen (the icon looks like a bar graph). Within "Insights," select the "Audience" tab. You'll be able to look through the times when your audience is most active on Instagram.
The best days to post on Instagram are Monday and Thursday, and Sunday is the worst day to post.
Up your photography game
One of the reasons Instagram is so popular is the visual nature of the platform—95 million photos are posted there every day. You can't share a post without including a photo, and the photos tend to be more aesthetically pleasing than on other platforms. Because of that, you should only share very high-quality photos, which might require more time and effort. While this aspect of Instagram can make it daunting, it also makes it great for engagement. You'll probably see more likes on your Instagram posts than on other platforms.
Use a lot of hashtags
Using hashtags on Instagram will help you gain engagement and even followers. In fact, using just one hashtag will, on average, increase the engagement of that post by 12.6%. Think of hashtags as a way to categorize your photos. If you add the hashtag "taxprep" to your photo, that photo will show up when someone searches for that hashtag. This makes it easier (and more likely) for new people to find your posts and connect with you further.
You can use up to 30 hashtags, but you may not want to. Experiment with using different amounts of hashtags and see what works best for you. Just remember to put the hashtags in a comment rather than in your caption. One or two hashtags in the post caption are fine but more than that can get cluttered and distract from your caption.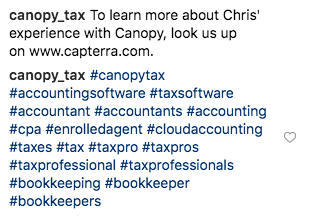 Looking for more quick social media tips? Read 3 Ways Tax Professionals Can Improve Their Facebook Page.