Canopy's time tracking just became more robust with the addition of a dashboard that shows time and revenue metrics across your practice. You'll now be able to analyze data to improve your profitability and productivity. Let's take a look at the main features of the dashboard.
Revenue and Time Analysis
Revenue analysis provides real-time reporting of your practice's time and billing records, so you can identify invoiceable hours, measure profitability, determine rates, and more. You'll be able to view the following at a glance:
billed hours
unbilled hours
total hours
billed revenue
unbilled revenue
You can also view time entries for every practitioner and client.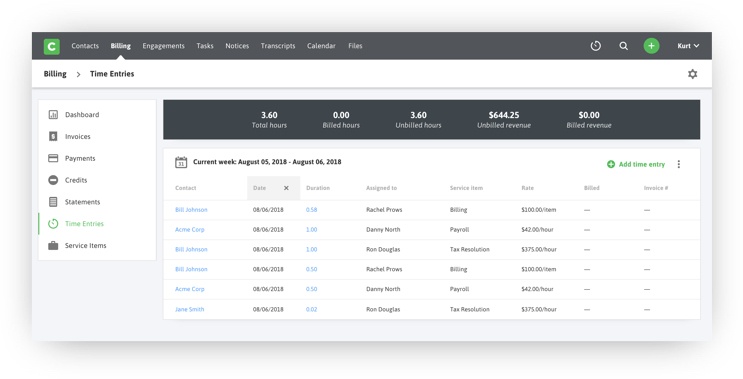 Advanced Filtering
Within the dashboard you can apply custom filters for a flexible, detailed view. You can select any grouping of clients, practitioners, services, or timeframes. This ability to filter combined with the revenue analysis feature will enable you to answer important questions for your practice such as:
Which clients, practitioners, or services create the most revenue?
How efficient are my practitioners, and which services are they most effective at?
What are my practitioners' utilization rates?
How should I price and scope my services?
Because of the flexibility of the dashboard, you'll also be able to answer many other questions that are more specific to your practice's needs.
Export to CSV
Lastly, if you want to further analyze your data in Excel or other third-party applications, you can export the data to CSV.
Want to see what else is new in Canopy? Check out our calendar feature update.