Client management is one of the most important aspects of running an accounting firm, but it can also be one of the most difficult. After all, it can be time-consuming and it relies on clients doing their part to be collaborative and responsive.
Fortunately, cloud-based practice management software for accountants—such as Canopy—solves for many client management challenges. From exchanging client information when a case begins to collecting payment when a case is finished, Canopy can help you improve client management in your accounting firm. In this post, we go over the Canopy features that allow you to do the following:
Exchange client information with ease
Manage client information in real time
Communicate with clients effectively
Collect payments seamlessly
Exchange information with ease
Client portal
Gone are the days of waiting on your client to fax you or drop their documents off at your office. Cloud-based practice management software makes it easier than ever to exchange information with clients in a secure, efficient way.
However, when sharing information and forms with your client, a "black box" in the cloud is not helpful. What helps you connect with and manage your client is a convenient, secure location not only to store information but to also keep two-way channels of communication open.
With Canopy, your client has access to their own secure client portal, customized to your brand. From the client portal your client can:
Make a payment
eSign a document
Send you questions directly
View invoices
Complete client requests
Fill out a client organizer
Upload files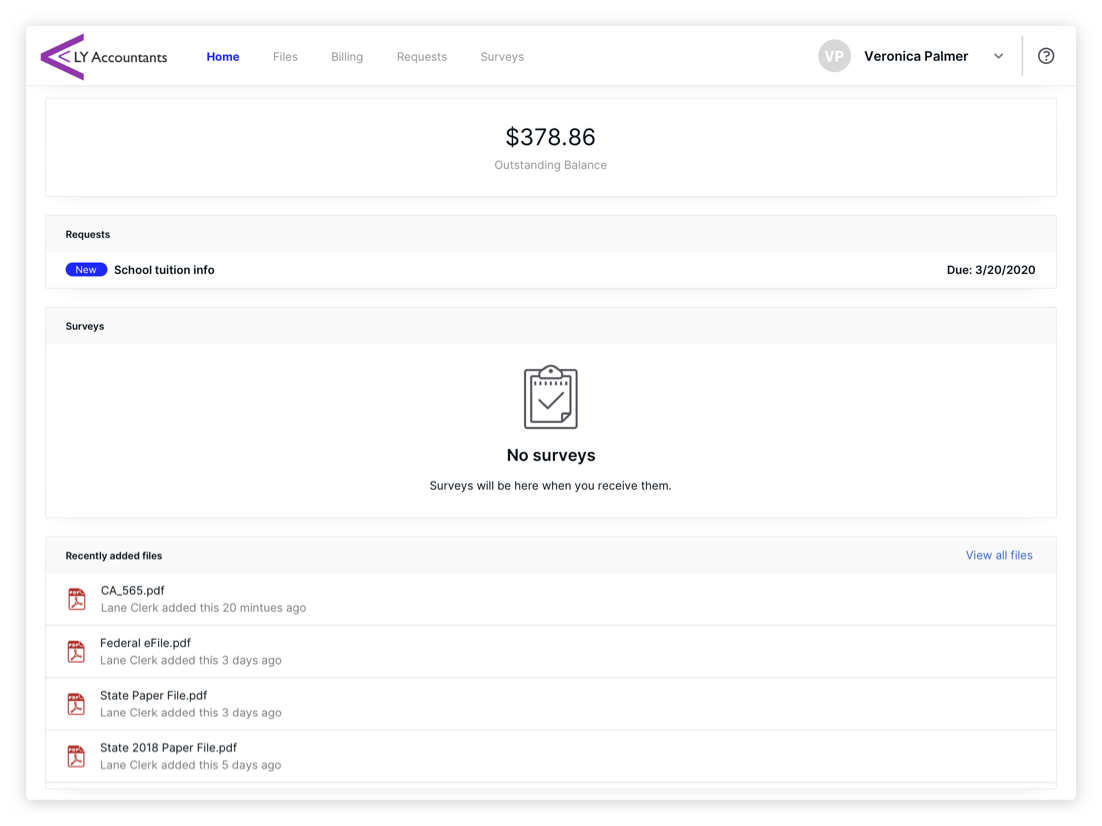 The client portal cuts down both the amount of emailing and calling you do to track down information. You'll be able to gather information from them more easily, and your client will always feel like they're in the loop (something clients really appreciate when it comes to finances).
Enhance your client's experience further by inviting them to download the Client Portal mobile app, available for both iOS and Android) where they'll enjoy all the functionality of the client portal from the convenience of their phone.

eSign
In addition to collecting contact information from your client, Canopy also allows you to collect electronic signatures, authenticated with knowledge-based authentication (KBA)—no in-person meeting necessary.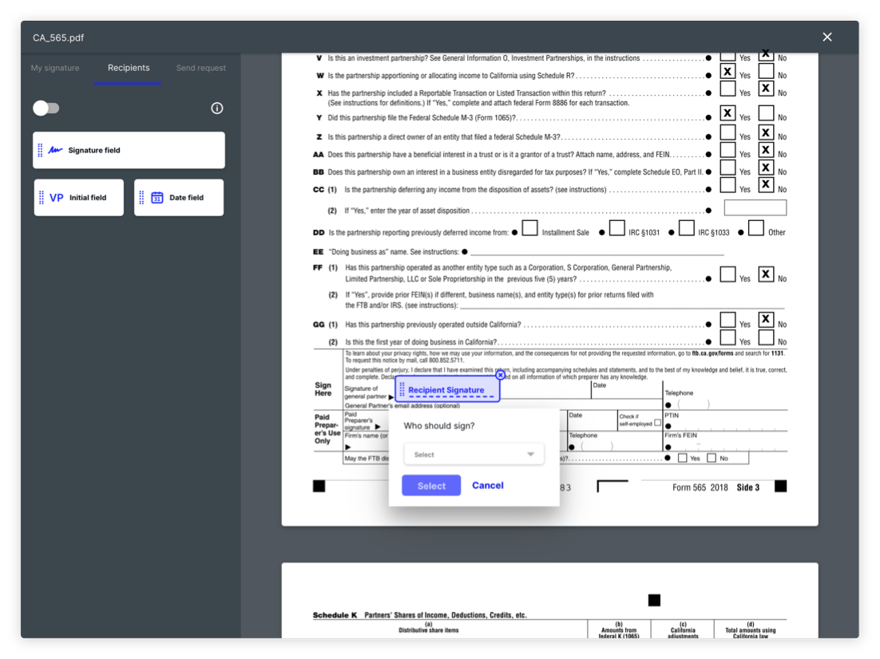 Files that are eligible for eSign include:
Microsoft Word files
Excel files
.csv files
PDF files
Not only is gathering client signatures electronically quicker for you, your clients will also love the convenience!
Manage client information in real time
Once you've gathered client information, it's important to have a good way of managing and keeping track of it. Too often client information gets saved in multiple places, and there's not one up-to-date contact list for your whole team to refer to.
With Canopy's cloud-based customer relationship management (CRM) solution, you can keep track of all client information across your firm in real time and display the information that matters most with custom fields and group filters. Custom files allow you to add any customized information about contacts with ease. Using these tools together can keep your contact list filtered to the most relevant contact groups at any given time.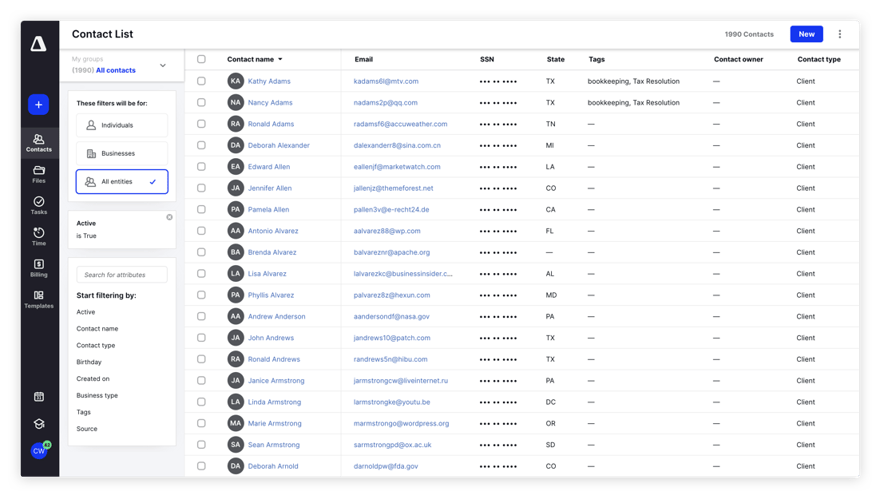 Plus, with a variety of bulk actions, selecting contacts and completing an action for several at a time has never been easier. Send an email to a group of your contacts or create a task that applies to several clients at once.
It's not often you can get both a deep dive and a comprehensive overview of all your client's vital information. Within a contact profile, you can view your client's information and the dependents they have listed. From one screen you can:
Upload a file
Add a task
Add a note
Update contact information
Update dependent information
Communicate with clients effectively
How you communicate with your clients at all different stages of casework is another critical part of a well-managed client relationship. It's better to be proactive than reactive when communicating with clients, but that doesn't mean you have hours to dedicate to communication every day.
That's where Canopy comes in. Staying in touch with your clients is as easy as a click. By syncing your email account with Canopy, you'll be able to keep track of all the communication between your team and your client from your client's profile. Most requests, client portal invites, and other updates from Canopy are received by your client via email.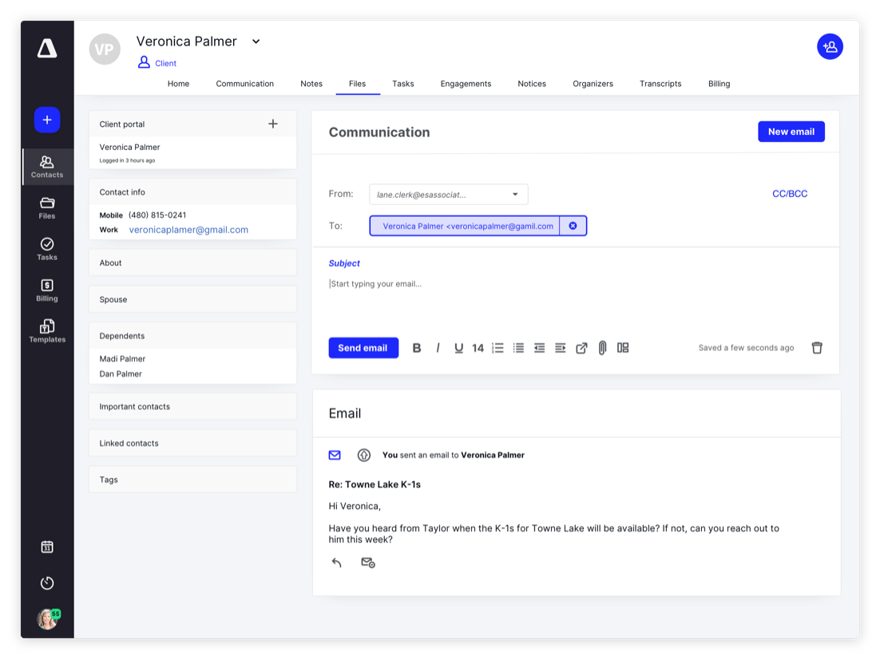 When sending a client request, you can add comments and answer any questions your client sends on the same thread. These comments are available on both your computer and the Canopy mobile apps so you never miss a question.
Additionally, Canopy automates client follow-up. When sending client requests, set up reminders at a frequency that works for you and your client. Those reminders will keep sending automatically until your client either completes the request or the time duration you designated expires.
Collect payments seamlessly
The last step of managing a client's case is collecting payment once you've finished the work. Accountants are all too familiar with clients who take a long time to pay their fees and clients who never pay at all.
To help make this process of collecting payment more efficient, you can enroll in Canopy Payments—you'll benefit from simple, flat rates for credit and ACH transactions, and your client enjoys an easy way to pay their fees. Clients will be able to view their invoices in their client portal and either pay through their client portal or in person. All major credit cards are accepted including Visa, MasterCard, and American Express.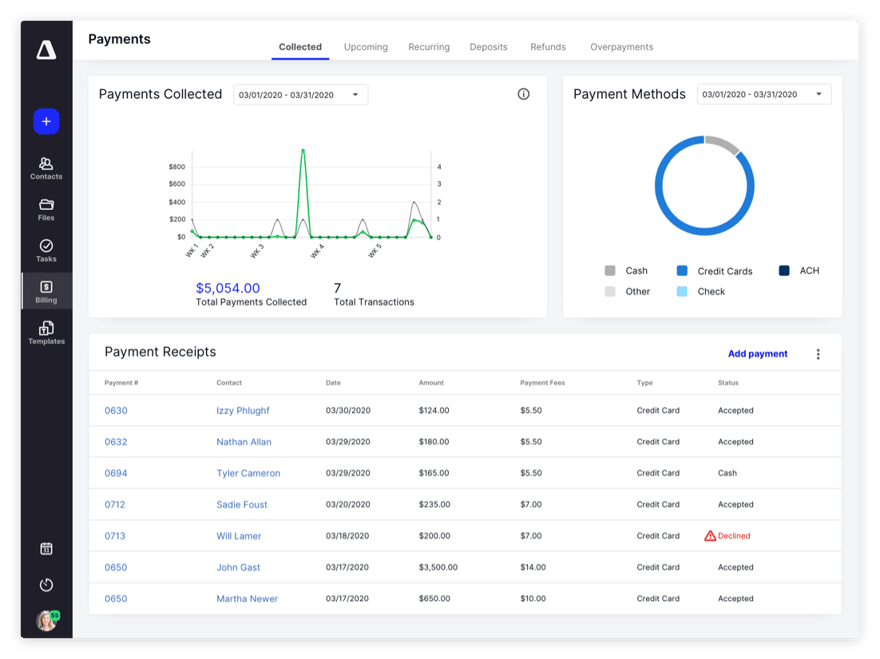 On your end of Canopy Payments, you'll be able to bill for recurring work by automatically charging clients rather than sending manual payment requests. Your clients will also have the ability to save payment details for quick manual charges in the future.
Additionally, you'll be able to see the status of every transaction (filtered by client name, date, fees, and more) from a dashboard view, giving you a better insight into cash flow.
See Canopy's client management features
Want to see Canopy's client management features such as the client portal, client organizer, eSign, CRM, communication tools, and Canopy Payments for yourself? Sign up for a personalized demo where a product specialist will walk you through our Practice Management suite.