Successful accounting firms have many things in common but one of the most important characteristics they share is effective management. Managing projects, documents, and your team is no easy feat but can be done with the right accounting practice management software.
With Canopy you can:
Streamline your workflow
Organize your documents in a centralized location
Manage your firm's resources
Streamline your workflow
When your team is working hard on projects, the last thing you need is disorganization. Imagine having a cloud-based workflow system so intuitive you can hit the ground running every morning with minimal disruption.
With Canopy's workflow tools you can enable every person in your firm to clearly understand what they're working on at any given time. Our workflow features include:
Tasks
Time on tasks
Task dashboard
Task templates
Client request templates
Letter templates
Delegate tasks to team members and follow up easily. Assign a task to yourself or any of your team members. Along with adding assignees, you can add notes and reminders to each task.
Task templates save plenty of time when you have recurring projects. Save and implement task templates within Canopy and customize them at any time.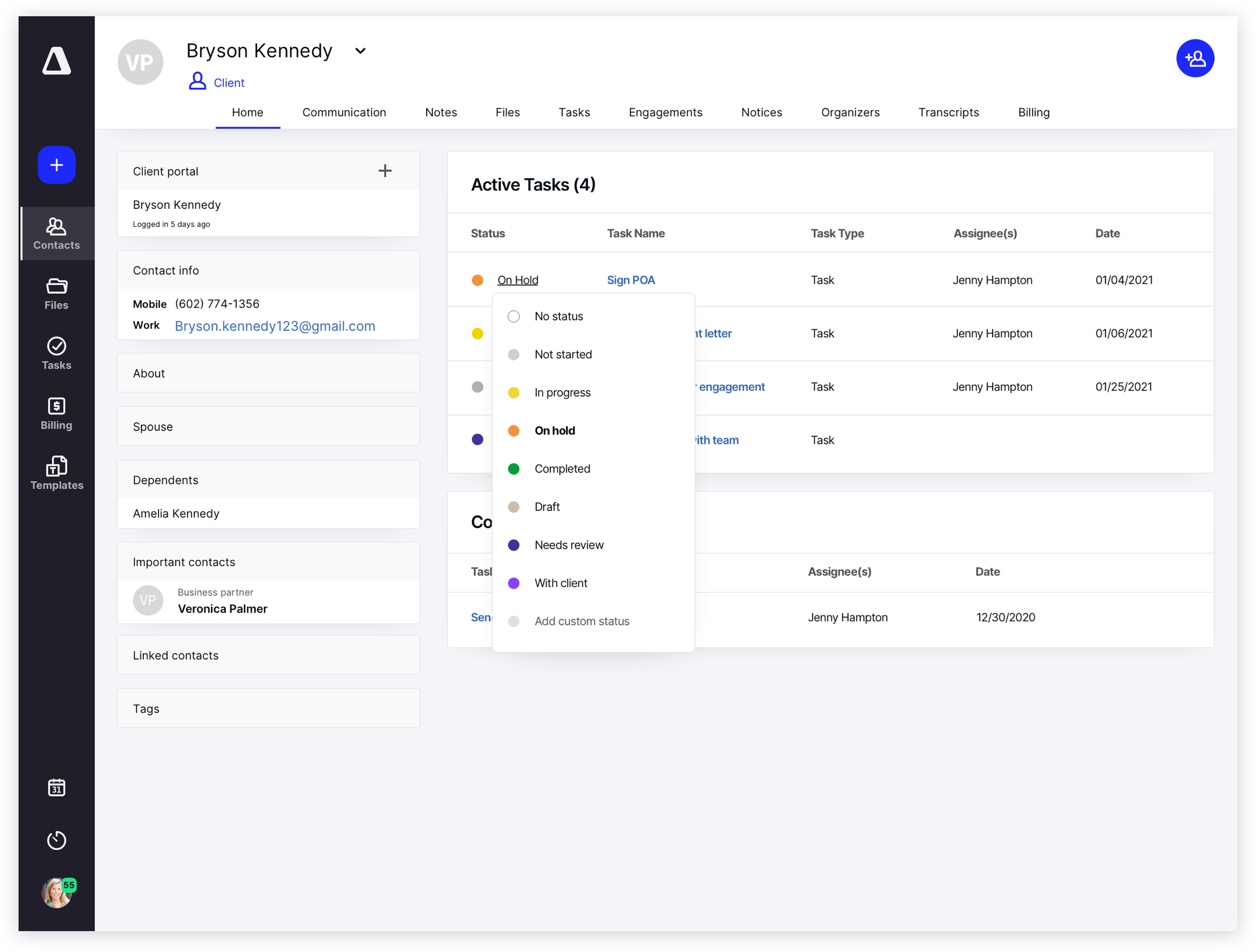 Along with delegating tasks, you can track time spent on each task and subtask to better see your team's time allocation and productivity. Additionally, you can use the task dashboard to track all tasks across your firm. You'll be able to filter or sort tasks, pin tasks, update task details, and more.
To further streamline your workflow, client request templates can be added to task templates. When added to task templates, the client request template will quickly complete a necessary client request in sequence with the task template.
Lastly, letter templates make it easy to save commonly sent letters and use them over and over for your firm so that you're not taking extra time to draft new ones. Plus, this way you can ensure the language you use in letters to clients is consistent.
Organize your documents in a centralized location
Keeping your team organized involves assigning work and keeping track of vital documents. When working on an assigned task, you want your team to have access to all the files they may need. To help with that, Canopy includes these features:
Folder templates
Unlimited cloud storage
File migration
Print & scan to Canopy
Canopy's document management tools include unlimited cloud storage and a downloadable desktop assistant that enables you to print and scan files directly to Canopy from your computer. Connect your preferred scanner to scan paper documents directly to a client's folder in Canopy, otherwise, you can designate Canopy as a printing location for files found on your computer.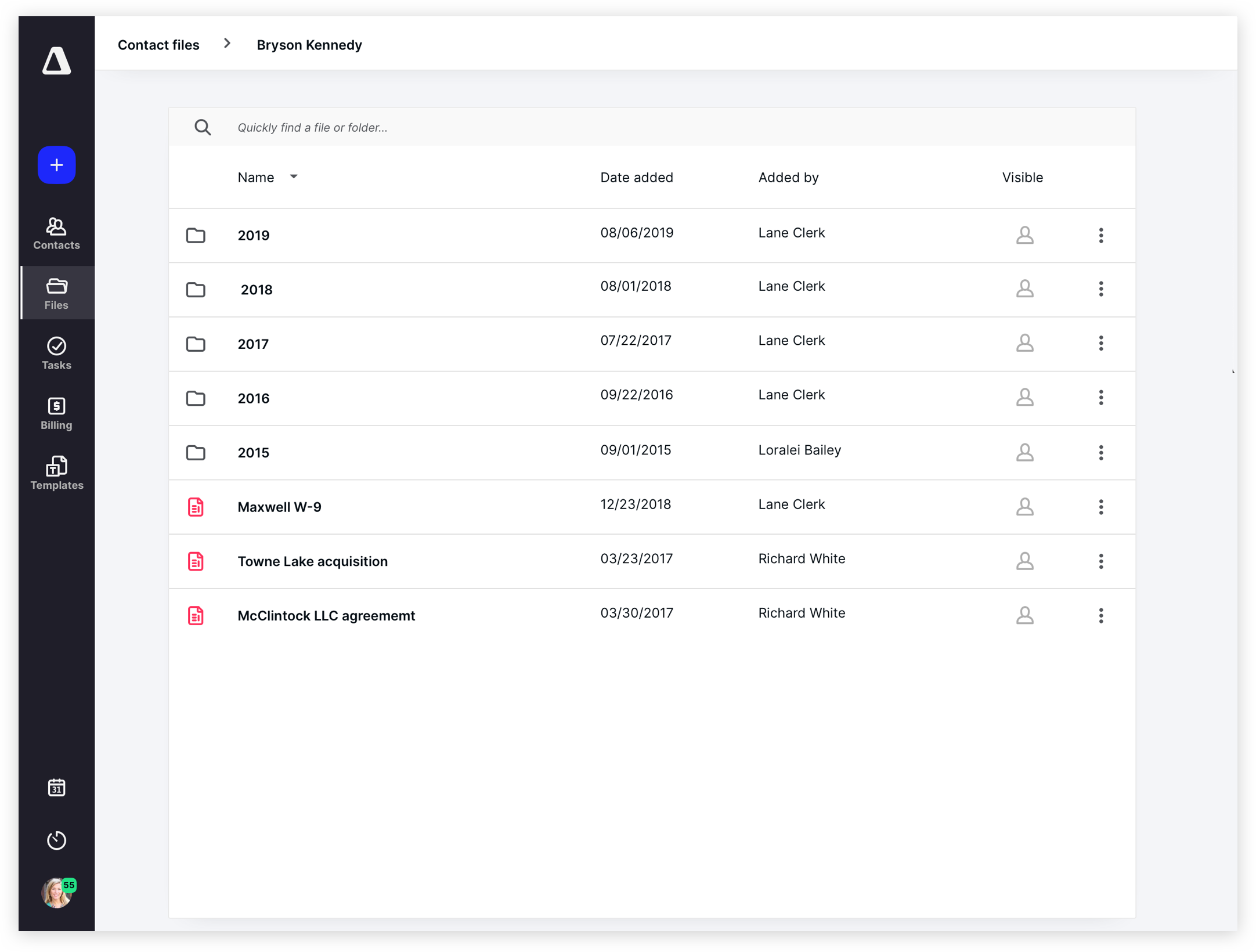 Within the desktop assistant, there is also a file migration tool, which allows you to easily transfer entire file structures from your computer to Canopy.
After you've migrated your files to Canopy, you can set up folder templates to make sure each client's file storage is uniform and easily navigable for you and your team. Canopy's drag and drop file upload process makes it easy to keep all client files organized.
Manage your firm's resources
Once you have your firm running smoothly, the next step is to manage your resources—such as your time and team members—to make sure business is being as productive as possible. Canopy offers resource management features such as the following:
Billing reports
Time reports
Productivity dashboard
Billing reports are designed to show you a summary of aged receivables as well as details. You'll be able to review the following types of billing reports:
Aged Receivables Summary: Displays a summary of all aged receivables in Canopy.
Aged Receivables Detail: Displays the specific details by contact.
Revenue by contact: Shows a revenue breakdown by the assigned client.
Revenue by service item: Shows a revenue breakdown by the assigned service item.
Revenue by team member: Shows a revenue breakdown by the assigned team member.
Similarly, you'll have access to time reports. Under time reports you can see the following:
Hours tracked by contact: Shows an hours breakdown by their assigned contact.
Hours tracked by service item: Shows an hours breakdown by their assigned service item.
Hours tracked by team member: Shows an hours breakdown by their assigned service item.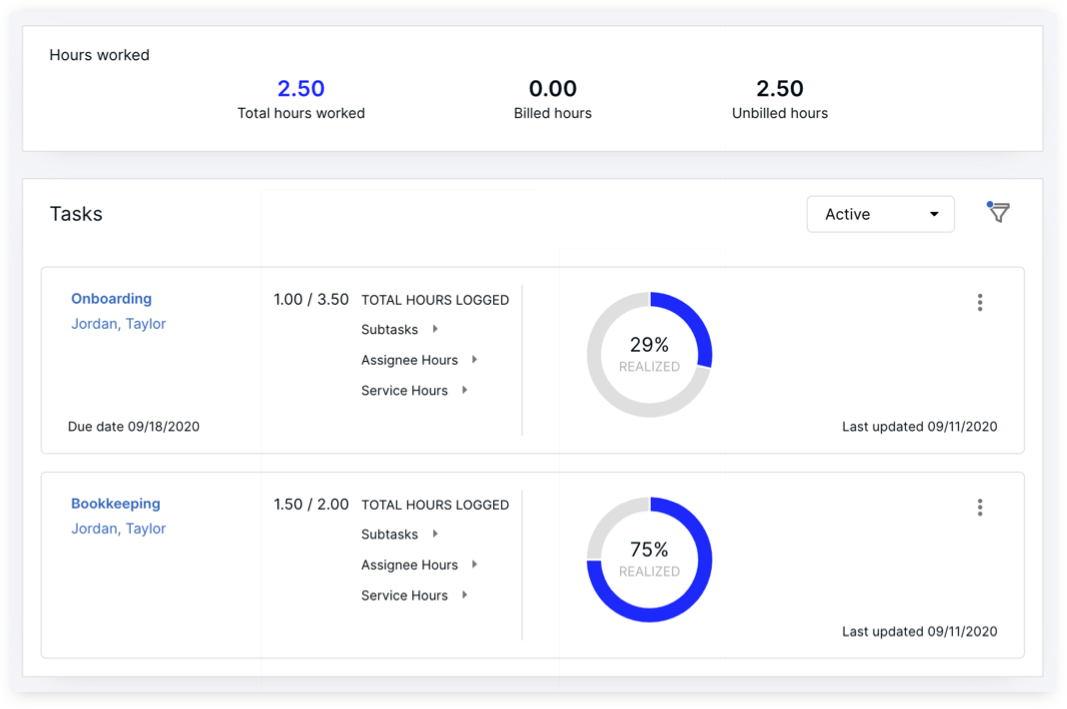 Additionally, you'll be able to better track how long projects are taking your team to complete and see a deep dive into all your time tracking data with Canopy's productivity dashboard. The dashboard displays time budgets on all tasks and subtasks, enabling your team to become even more efficient.
See Canopy's firm management features
Want to see Canopy's firm management features such as tasks, templates, the desktop assistant, reports, the productivity dashboard, and more for yourself?
Sign up for a personalized demo of Canopy and a product specialist will walk you through the entire Practice Management suite.