Think about your typical day at work.
Every morning, you set out with the best intentions to accomplish what you've set out to do.
You might be working on a task that's proving harder than you thought, so you decide to scroll through your Facebook feed or work with a client who doesn't have anything due until the end of the week when you have a deadline coming up tomorrow.
Alternatively, you might get lost in your emails with constant back and forth communication with clients or teammates. Or maybe you're stuck in back-to-back directionless meetings all day that seem to be nothing but water cooler chat.
At the end of the day, you realize that you've done very little. Whether you work from home or from your favorite coffee shop, distractions often get in the way, preventing you from completing projects on time and managing your clients efficiently.
A report by Udemy reveals that distractions at work cause stress, frustration, and lack of motivation leading to poor performance. No wonder, right?
According to GetVoip, $37 billion is lost annually due to inefficient meetings which result in decreased work productivity. That's a lot of revenue being wasted for something that can easily be prevented!
Thankfully, there's a way around this: time batching.
It allows you to dedicate blocks of time each day to work on high-level tasks that help your business grow. We'll outline 4 steps to help you use time batching to boost your productivity and run your virtual tax practice efficiently.
Step 1: Identify your time loopholes
How much time do you spend each day on essential versus nonessential activities?
While working for your virtual tax practice, there's a lot to do: managing clients, sending email blasts to clients, and tax preparation work among other activities. If you're not keen, it's easy to spend too much time on one project at the expense of other projects.
That's why you need to use a time tracking tool to identify the amount of time you spend on each task, website, or app each day. Finding where your time is currently being spent is an easy way to identify areas where you can be more effective.
Step 2: Visualize this information
Once you collect information from your time tracking app, create a mind map that helps you identify tasks that take up most of your time.
Mind maps help you break down huge chunks of information into a memorable visual representation:

Source
They have the main idea (in this case: time spent) and branch out to represent the amount of time you spend on each task.
Step 3. Identify specific high-level tasks
With a clear visual representation of projects and tasks that take up a lot of your time, identify 2-3 high-level tasks that have the biggest impact on your business.
For each high-level task, note down the impact it has on your business then determine how often you have to do it to get results. Finally, set a deadline for each high-level task.
This will help you prioritize these high-level tasks, know how often you need to do them each week, and the amount of time you need to allocate to each task to complete it within the set deadline.
You'll start getting things done faster since you'll only focus on activities that contribute to the result of your task.
If, for instance, you want to generate more leads for your business in the next quarter, then creating a landing page like the one shown below is a high-level task.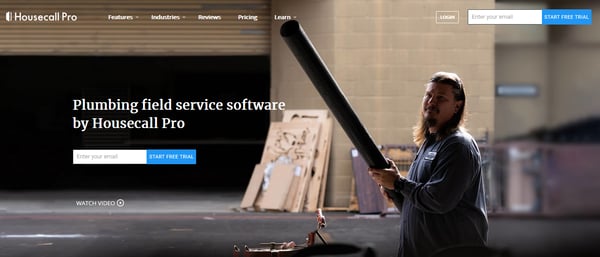 Source
For your landing page to convert well, you will need to pay more attention to images and the copy you write, meaning that it will take more time to get it done.
Step 4. Leverage coworking spaces
You might use private internet access, but how private is your work space? Your work environment might be full of distractions that you can't get rid of e.g. a noisy construction site. Head over to a coworking space that fits your preferred work style.
Being around other like-minded professionals improves your motivation, meaning you're able to get more things done.
Once you get used to batching time and getting more work done, you'll also want to save more time on other low-impact tasks such as meetings. Luckily, that's becoming easier thanks to tools like Skype, Skype alternatives, Slack, and hosting live webinars across dispersed teams.
For those of you who don't fancy webinars or conference calls, you could employ a virtual or admin assistant to take meeting minutes for you and shoot it over to you by email.
Another tip is to use the conference rooms in most coworking spaces so you don't have to move from one place to another to meet clients, team members, and partners.
Conclusion
You want to do more and deliver more results for your business. Getting rid of distractions through time batching is an efficient way to do that.
Start by identifying how much time you spend on every activity you do at work. Use a mind map template or time tracking software to figure out where your time is spent.
It makes it easier for you to identify tasks that you need to focus on to get closer to achieving your goals. Allocate time blocks depending on their impact on your business, then set deadlines that will push you to take action.
You'll become more productive, make significant progress, and start seeing tangible results in your business.
About the author
Anastasia Masters is a Content Marketing Associate at G2. She graduated from the University of Michigan with a degree in history. In her spare time, Anastasia enjoys eating her way through Chicago's different neighborhoods, planning her next trip, and binging a new show on Netflix. You can follow her on Twitter at @anastasia_mm0.
Looking for a one-stop shop for accounting practice management software that will help you run your virtual practice more efficiently? Check out a demo here!