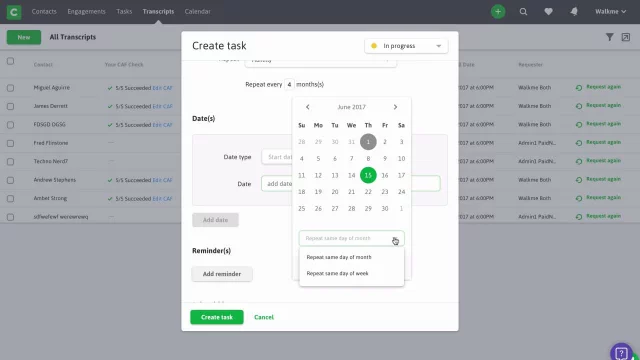 Canopy recently added a feature that's going to change the way you manage your tasks and team: Workflow. This Practice Management feature means easier delegation of work, less need for team meetings, and easy setting and tracking of tasks.
Here's a closer look at how it works.
Global Dashboard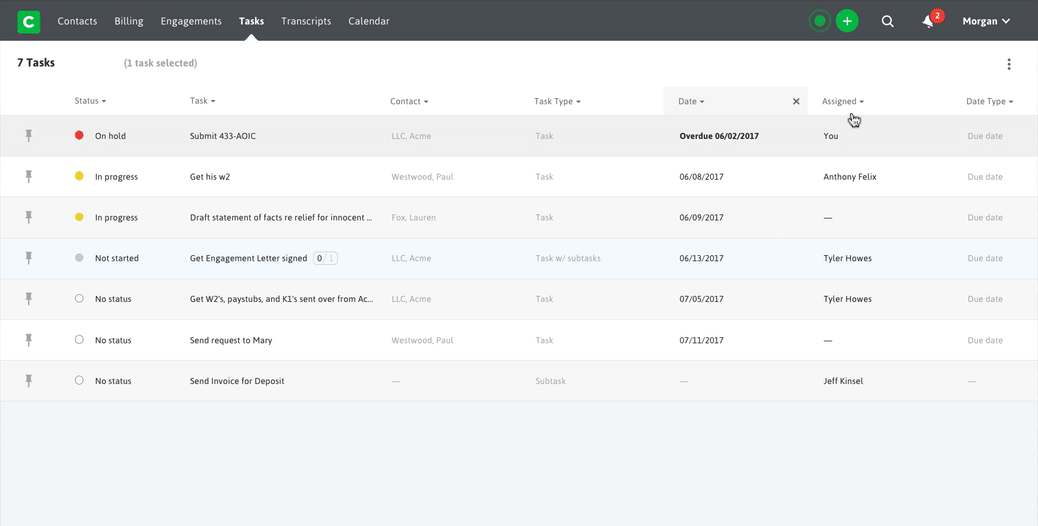 In the global dashboard, you can see all of the tasks for the clients you're assigned to, all in one place. Since admin users have access to every client, they can see everything happening in the practice at a glance.
The dashboard displays task attributes such as assignee, engagement name, contact name, due date, status, etc. You can customize which attributes you see by toggling each attribute column on or off. You can also rearrange the order they appear. Plus, a wide variety of filters are available, allowing you to refine your view even further.
Beyond having an organized view of your tasks, you can also perform tons of functions right from the dashboard. You can pin high-priority tasks to the top, bulk edit tasks, and view subtasks. You can also export information to Excel and archive tasks.
Having organized transparency into what needs to be done, when, and by whom, will reduce chaos in your practice and give your team the freedom to accomplish much more in less time.
Task Creation
Creating a task is quick and flexible—the only information you are required to include is a name for the task. Besides that, you can add as much or as little information as you need.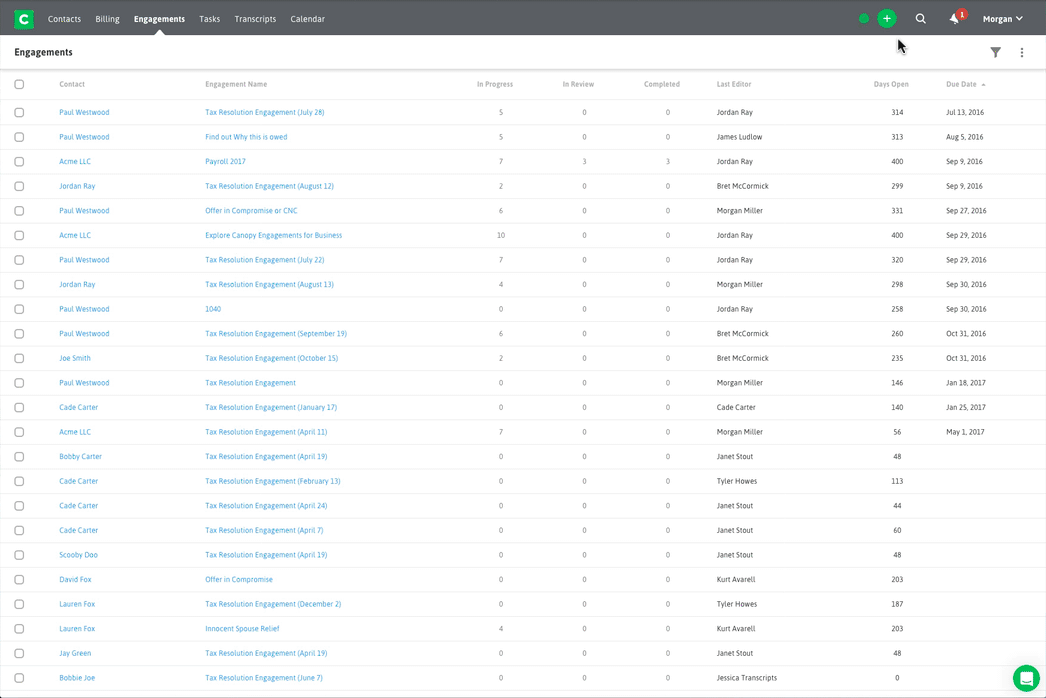 For example, if you create the task "Process Payroll," you will have the option to add the contact and engagement it belongs to, assign team members to the task, add a description, set reminders, outline subtasks, and choose whether or not you want the task to repeat at a regular interval. A repeating task is a direct copy of the original task, with due dates shifted.
By outlining subtasks, you're able to outline each step involved in the bigger, overall task. You can assign different team members to each subtask, as well as set statuses, dates, and recurring reminders. In both tasks and subtasks, you can add as many dates as you need, and they can be fixed (April 15) or relative (3 days after Start Date).
Delegating work to your team becomes as simple as clicking a button.
Notifications
Within Workflow, there are both reminders and alerts, and you'll get notifications for both.
Reminders are notifications you set yourself for things you choose—deadlines, recurring reminders to complete a task, etc.
Alerts are automatic notifications Canopy sends you when a change is made to a task that involves you. For example, you will get an alert when someone assigns you to a new task or subtask and also when a due date arrives. You'll also receive an alert when a subtask is completed, and you're assigned to the subtask that comes next. With the combination of reminders and alerts, you'll never forget a deadline.
You can select which types of notifications you receive by turning certain notifications on and off in your settings.
Workflow includes the components described above (and more), but how you implement it is up to you! Many aspects of this feature are customizable, so you can find the system that works best for your team.
Want to experience Canopy's Workflow for yourself? Sign up for a free trial, no credit card required.