Canopy's time tracking is here. Now you can easily track your productivity and get paid faster. Here are four time tracking features to try out.
Timer
With Canopy's timer you'll never miss a billable hour. You can track billable work with the click of a button. You'll also have the option to pause, save, or discard a time entry. Additionally, the timer is available alongside your other workflows, so using it won't interrupt your work.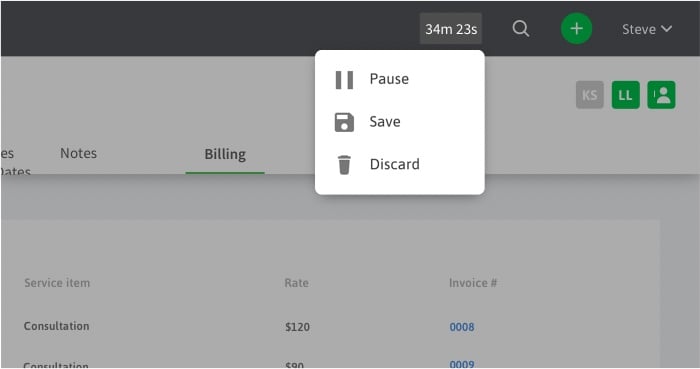 Client Timesheet
If you want quick visibility into the time you've spent on casework for a certain client, you can navigate to Canopy's client timesheet. In a client-by-client view, you can see how much time has been spent, who in your practice has done the work, which service was done for a client, and more. The client timesheet is where you'll be able to analyze and find opportunities for increasing your revenue and productivity.
Time Entry
If you need or want to enter your time manually, you can still do that. You'll have the option to fill in details such as start and end time, date, client, notes, and more. Like the timer, manual time entry is also accessible alongside other workflows.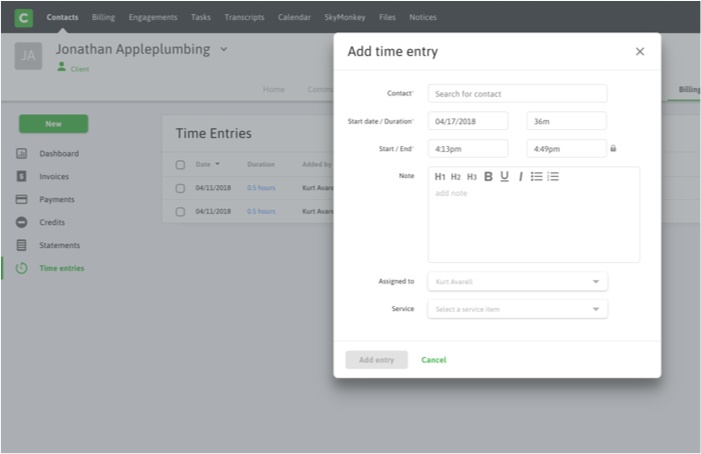 Add to Invoice
Last but not least, aside from tracking your time, your time entries will also be integrated with Canopy's invoicing and payments feature. All you have to do is select an entry from your client timesheet, and Canopy will auto-populate an invoice for you. After that you'll simply send the invoice through the client portal and wait to get paid.
Want to check out Canopy's other new features? You can find them all here.