We've intentionally avoided cluttering this checklist with in-depth instructions, but there's more to this checklist than meets the eye. In addition to giving you a convenient list of steps, we've also linked a wealth of offer in compromise information throughout the checklist. If you're looking for a detailed explanation for any of the steps listed in the checklist, just click the nearest "show me more" link and it will take you to an article that will give you the info you're looking for.
Want to download the checklist and flowchart so you can always have it on hand? Click here to make it yours.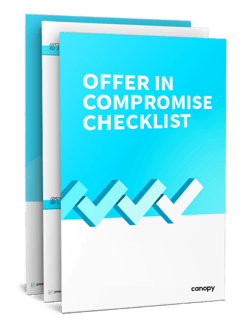 Step 1: Evaluate the Client
Also, one of the following must apply:
Step 2: Prepare for the Engagement
. . .