What's new:
With Canopy's Workflow module, you can now save time and reduce the mental load that goes into your work by automating specific rules related to your tasks and subtasks. Choose from a list of conditions that when met will perform corresponding actions that you designate. Our automation rules are sophisticated, which provides more flexibility for you and your firm to customize the workflow experience to match your specific processes, goals, or outcomes.
Although it has built-in sophistication, we've made it easy for you to implement these rules into your process. Simply explained, automation uses if/then logic to perform actions. If a condition is met then it performs the action you want it to. First, you'll want to familiarize yourself with the options that you have to choose from.
Listed below are the high-level conditions that you can choose from:
When status is …

When a task/subtask is created ...

When a date is approaching, reached, or past …
Additionally, listed below are the high-level actions that you can choose to happen when the aforementioned conditions are met:
Set the status

Send a client request

Send an email to the client

Create another task

Set the status on a task/subtask

Set an assignee on a task/subtask

Notify a team member

Set a date
Important note: The ability to automate tasks and subtasks is just the beginning of a series of workflow automation capabilities within Canopy! Initially, this will be available for single tasks and subtasks only. However, the ability to set up automated rules inside templates will be available in the near future.
Also, legacy customers must update their subscription to access this feature. If you fit into this category or if you have questions about if this applies to you, please contact our support team at success@getcanopy.com, or use our chat feature located inside Canopy.
How it works:
Users who want to set up automation rules on tasks and subtasks must first have the permission to do so. Admins will automatically have permissions set to view and create automation rules. They can also grant permissions to other staff members by navigating to the settings section of the software, selecting "Roles and Permissions," and clicking on the role you want to change the permissions on. Scroll down to the "Work" section and you'll notice two options for you to select: "Create and Edit Automation Rules" and "View Automation Rules."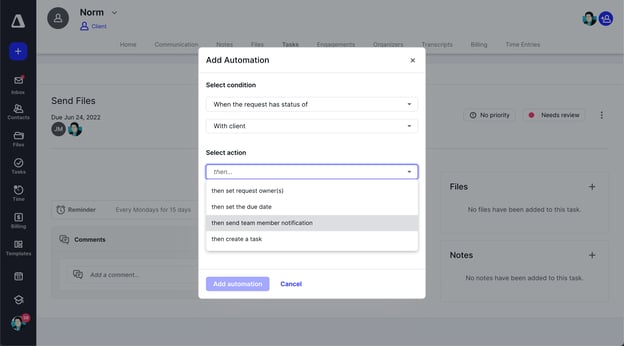 With the permissions set, you are now able to set up the automation rules that you choose. There are several places that you can set up an automation rule—under the Task List and in the Task tab in the Contact List once you've selected a specific client.
Task List
When you select a task, you will now see a button labeled "Add Automation," which brings up a modal once clicked. This modal will allow you to designate the desired conditions and actions you want to automate.
Task Tab Under a Client Record
Under an existing task, you will see the same button labeled "Add Automation," which brings up a modal once clicked. This modal will allow you to designate the desired conditions and actions you want to automate.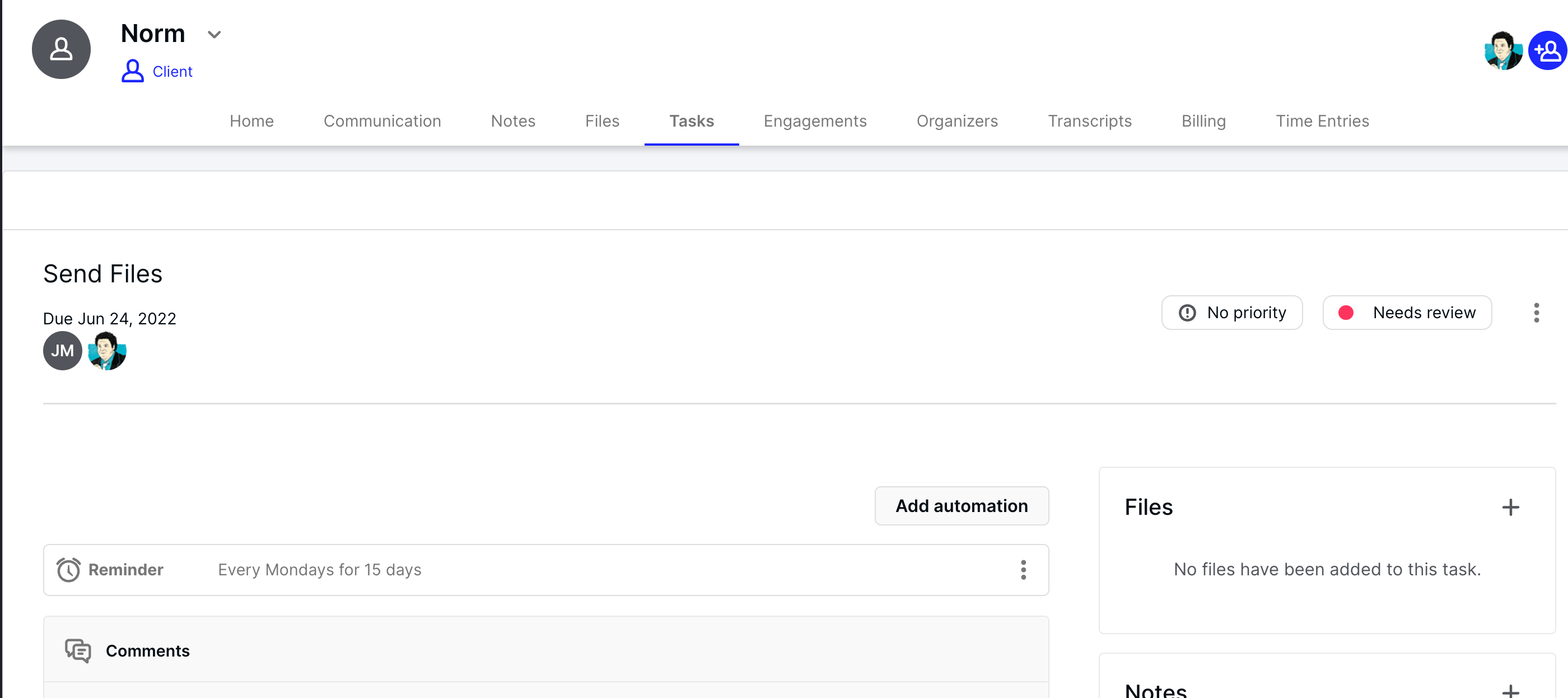 Automation rules will be indicated with a lightning bolt icon (as seen above) and there are no limits to how many automation rules can be set on a particular task. With that in mind, setting up multiple automations can be helpful, but in some cases it could also complicate your process. We recommend that you thoughtfully consider your process and determine what automation rules will best contribute to efficiency within your firm. If you have questions, don't hesitate to reach out to support.
Automations of tasks and subtasks can greatly reduce the mental load that goes into these activities, but we realize that it may seem a little intimidating to get started. To help with this we have listed some common scenarios where you might want to implement an automation on a task or subtask:
You want to set the status as "Ready" on your task or assign someone on the next subtask.
You want to change the status of the main task as the work progresses through each stage.
You want to create a new recurring task after onboarding work is complete.
You want to send an email to the client after all documents have been reviewed.
You want to set a date on the task after something has been completed, like E-filing.
You want to notify a team member when a task/subtask needs attention.
You want to apply a folder template when the Tax Prep task is created.
There are a number of possibilities and combinations of conditions and actions that can be configured. Check out our article and video about how to Apply Automation Use Cases.
Why it matters:
This is one of the first steps as we strive to create more features and tools to help you increase efficiency and accuracy within your firm. Workflow automation can streamline the delivery of accounting services by reducing manual, repetitive processes that you encounter day to day.
This release can help you set up notices, trigger emails, change statuses, and more. We're excited for you to get started utilizing this release of automation features and, in the near future, combining this with additional automation options like templates.
Where to find it:
Automated tasks and subtasks require users to have the Client Management and Workflow modules. Also, as mentioned above, legacy users of Canopy must upgrade their account in order to use this feature.
Get started:
Add an automation rule to a task or subtask
Edit or delete automation rules
Automate Tasks [Product Video Tutorial]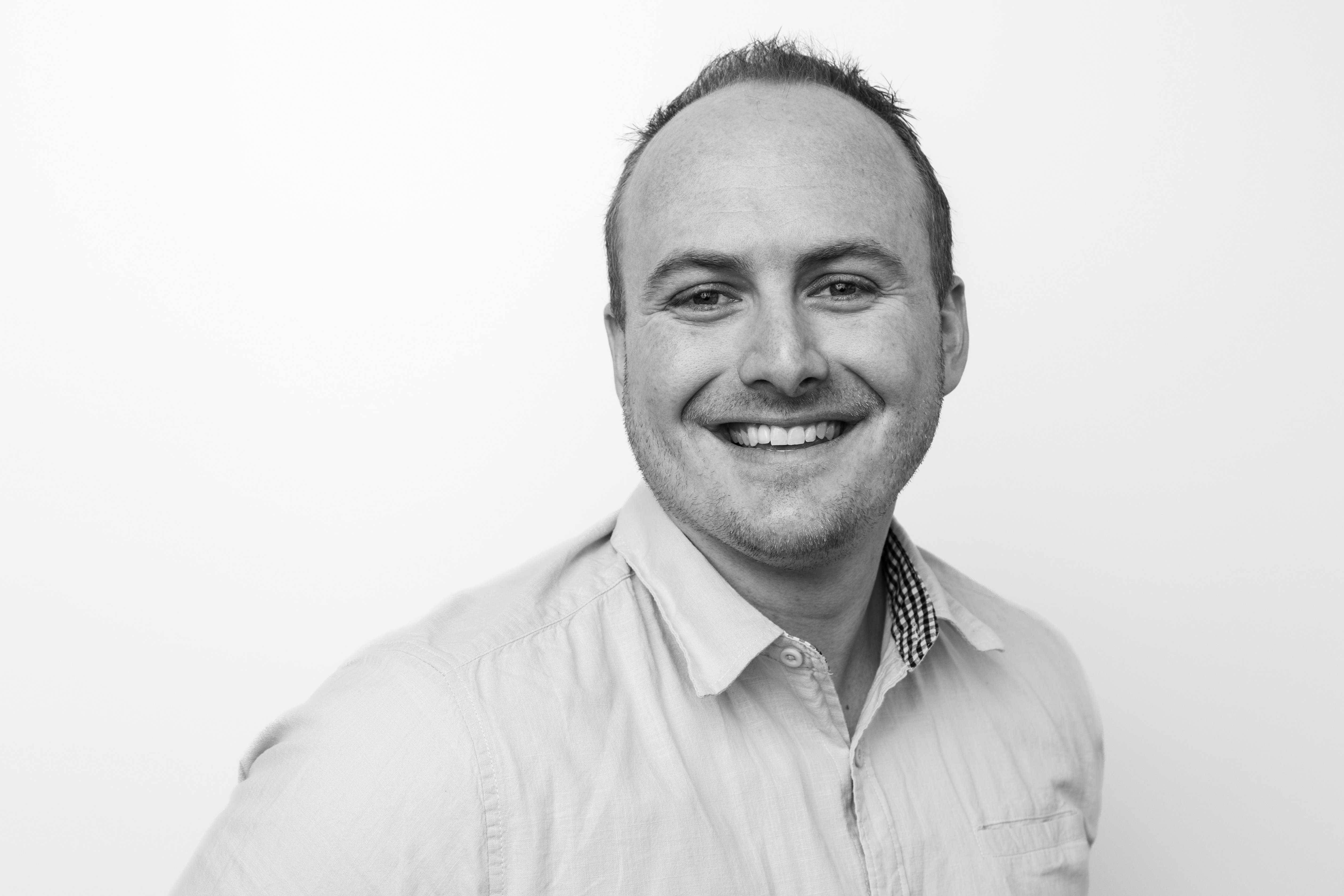 Jonathan is a Product Marketing Manager at Canopy.
READ MORE BY Jonathan