Canopy is proud to announce that it continues to be a leader in practice management software. We understand that, like the accounting industry, we must strive to evolve and continuously develop top-tier tools for accounting firms, facilitating success across the board. Through a cohesive combination of industry validation, customer feedback, and a team of top-tier employees, we continue to push ourselves to improve and impress.
We're pleased to announce that we've claimed the following awards from G2, a peer-to-peer review website for comparing the best products and software: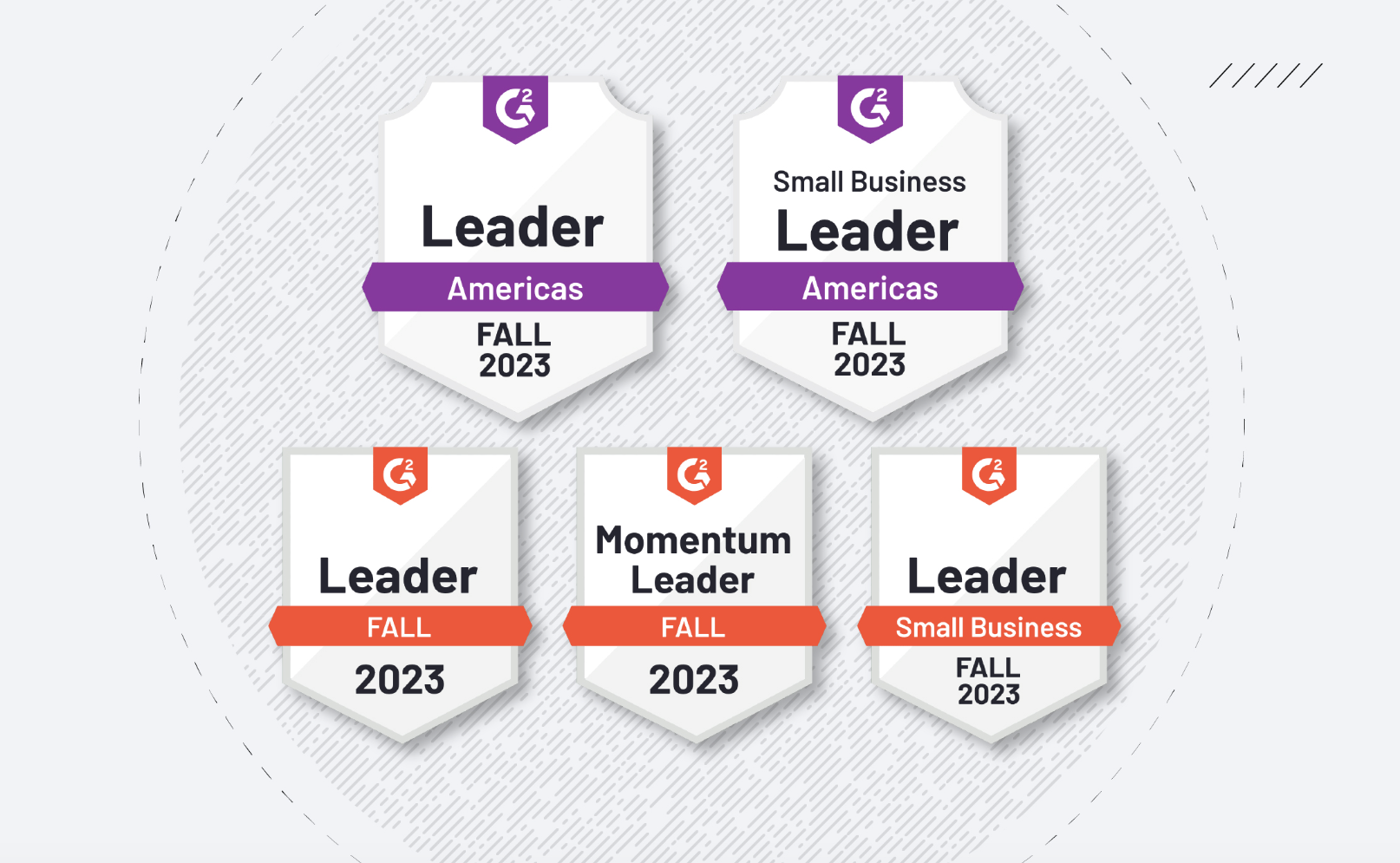 Compared to the Competition
At Canopy, we deeply value healthy competition, as it drives our relentless pursuit of excellence in creating the best practice management solutions. Competitors motivate us to continuously put forth our best efforts to deliver top-notch software to our customers. We understand that to stay ahead in the industry, we must constantly innovate and adapt to meet the evolving needs of our clients. We appreciate the trust our customers place in us as their preferred provider, and their feedback and input play a crucial role in shaping and refining our software. We are committed to delivering unparalleled quality and reliability, ensuring the utmost satisfaction and continued success for our valued customers.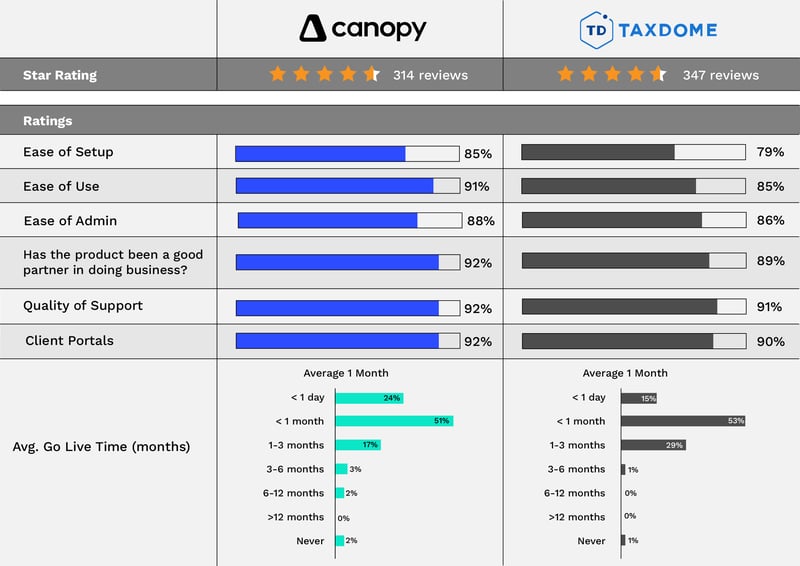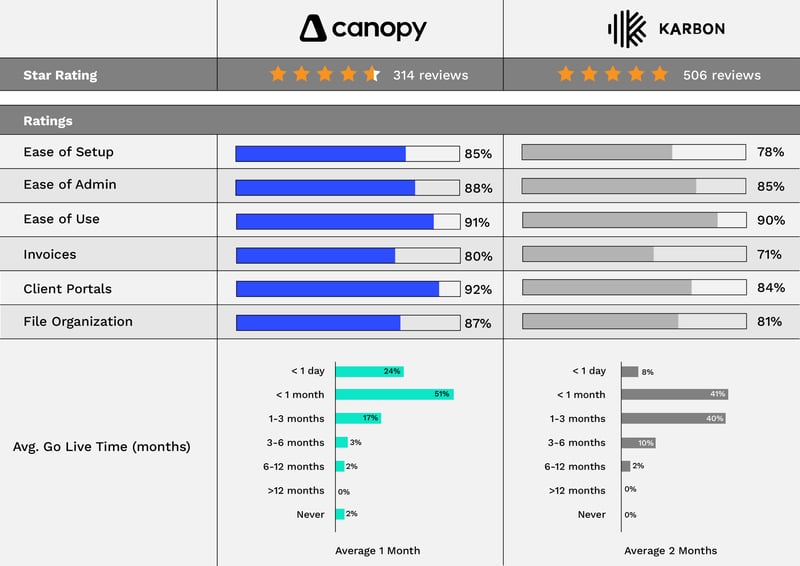 What Our Users Are Saying
At Canopy, our commitment is to provide our customers with top-notch practice management software. We deeply understand that the continued success and satisfaction of our clients depend on the quality and reliability of our solutions. We are grateful to have our customers choose us as their trusted provider and for their ongoing support. Their valuable feedback and input drive our software's development to meet the ever-changing needs of our clients. Together, we shape the future of our software!
After trying so many different (and clunky) task and time tracking softwares we ended up on Canopy. It was great when we started almost 2 years ago, but every month it's gotten even better with the Canopy team making updates. They listen to their users and make updates that are asked for. It's so great! - Hannah C.
Seeing the status of all of our cases and giving me a simplified invoicing module is very helpful. I also love how mobile-friendly the platform is for our users. You can see what you have going on right from the app. - Catherine B.
Canopy has helped me to consolidate my practice management and client file sharing/communications. Before Canopy, I did billing from Quickbooks/QB Time, file sharing through Drake Portals, signatures through HelloSign, task management in MS To-Do and Drake Tax, and communications through email. I also needed to separately pull and track IRS transcripts. Now all of those functions are on one platform and integrated with each other. This has helped me to scale more on my own without getting bogged down in the administrative side of my practice and onboard new clients more efficiently. - Thaddeus E.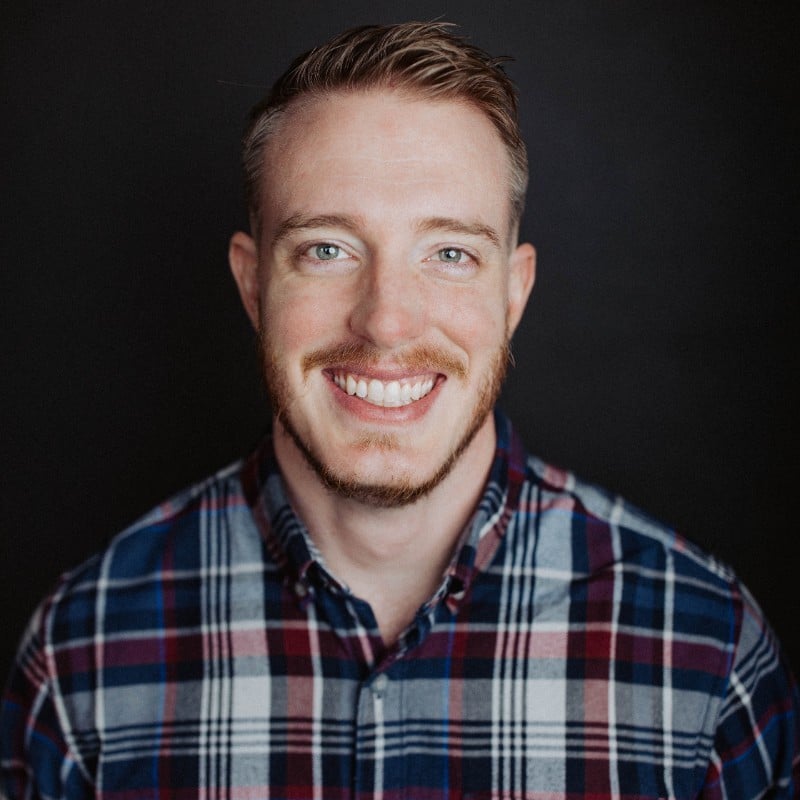 Chris is a content manager for Canopy, joining the team with a combined eight years of experience as a copywriter, editor-in-chief, and content marketer. He's a skilled wordsmith and strategic thinker who shapes brand identity through compelling content and fosters a collaborative and innovative environment. With a passion for storytelling and a dedication to excellence, he is a driving force behind any company's success in content marketing. Champion of the Oxford comma.
READ MORE BY Chris