What's New:
Based on your feedback and our efforts to increase efficiency at your practice, we've made it easier to access the letter generator within the Canopy app and we've improved the overall experience with an updated format and added functionality when using it. In addition to the current functionality you can now perform the following items:
Editing and formatting
Change the font

Undo

Redo

Strikethrough

Add links

Adjust line spacing

Indent and outdent content
Easier access to existing functions
To quickly launch the letter generator using global add button

To print

To save as a PDF

To download

To eSign (Note: this functionality requires a license to our Document Management module)

Add to a client request and email

Insert boilerplate text

Insert merge fields
UPDATED FUNCTIONALITY [November 8, 2022]
Custom Fields
You now have the ability to add a merge field in your letters or letter templates to insert information from a CUSTOM FIELD. This highly requested feature allows you to control what information you can insert into their letters even more than before. Ultimately, this makes it easier for you to provide a more customized customer experience for your clients in letters.

Important Note: In order to insert a custom field in a letter outside of a template, you will only see that option on the letter IF the contact you are viewing has some information entered into at least one custom field. If you do not have any custom fields added to the contact, you won't see the custom field option when drafting a letter.
How it works:
First, we've made it easier for you to access the letter generator by including a quick link on the global add button. Simply click on the blue plus icon (+) and select "Letter" in the drop down menu, which will launch the letter generator. It's that easy. You'll be directed to create a new letter or select from a template. Don't worry, if you prefer to access the letter generator within an engagement—where you might be accustomed to using this tool—you can still use that method.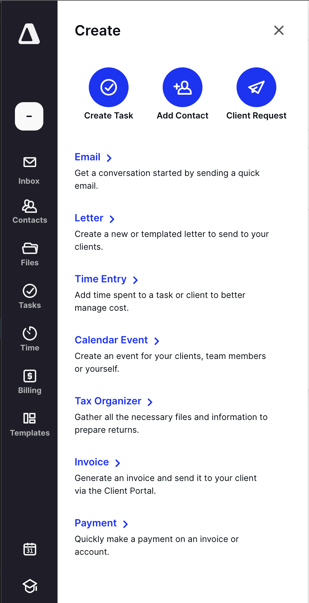 Second, we've improved the editing functionality by adding more features to the editor itself. Simply open up a new letter (either under the global add button OR within an engagement) and you'll notice more options on the top navigation bar. Most of the functionality that appears in the bulleted list in the previous section of this article can be found on the top of the letter editor screen.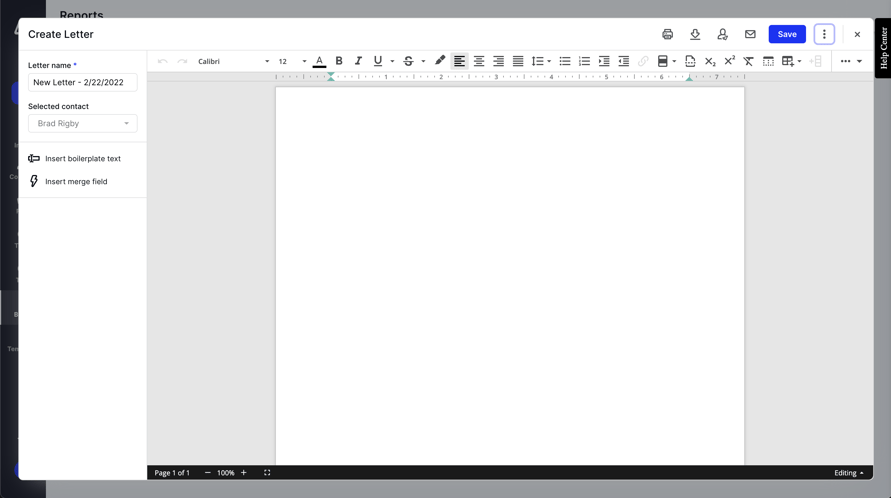 You'll also notice we slightly changed how to insert boilerplate text and merge fields (aka attributes). Previously, you selected these options on the left side of your document by clicking on the lightning icon. Now, we've made it more intuitive to list these options by labeling them "Insert boilerplate text" and "Insert merge field" on the left bar.
Keep in mind that if you want to insert boilerplate text you'll need to add it previous to launching the letter generator under the "Templates" icon on the left navigation bar.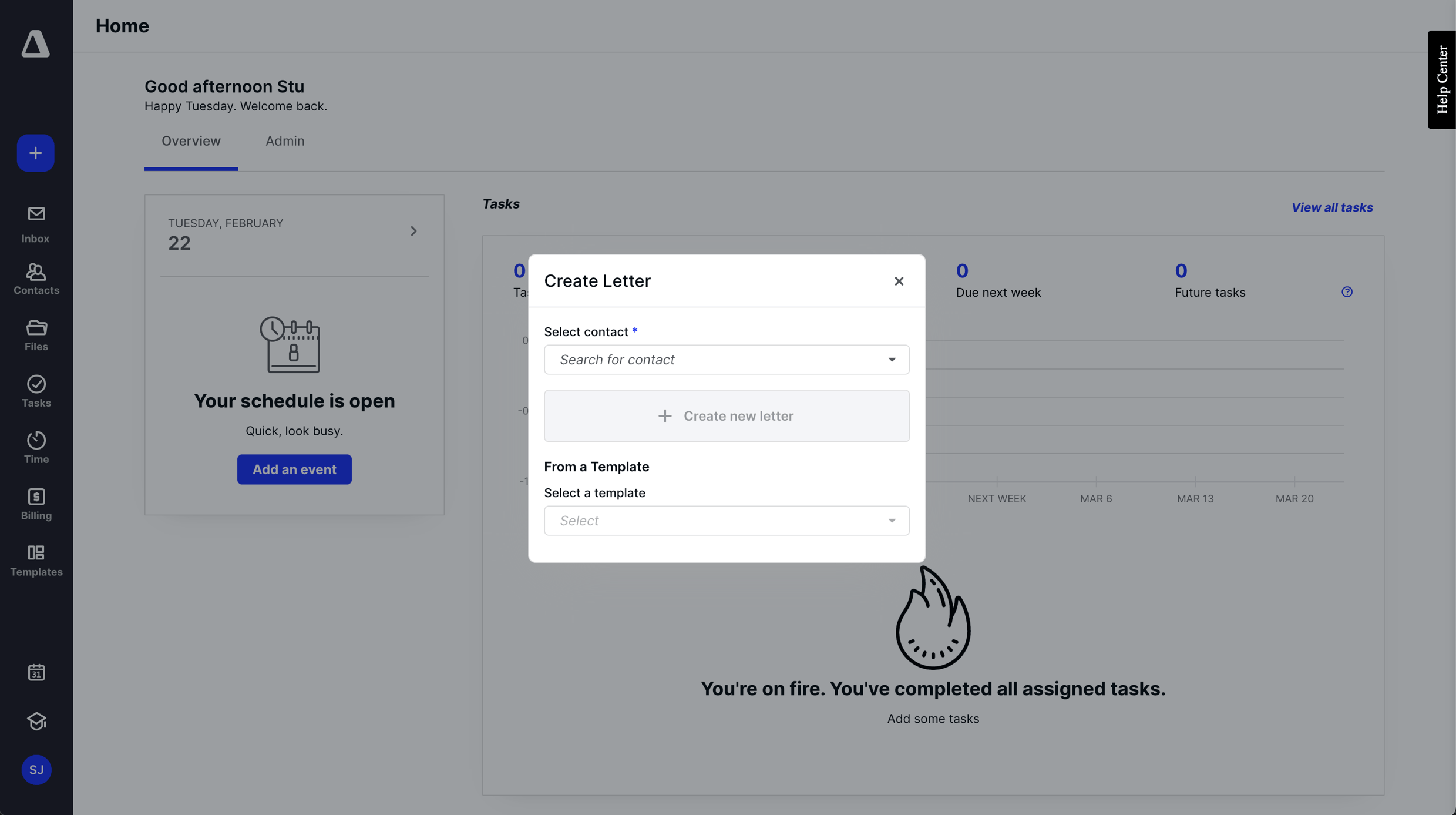 Why it matters:
For some, creating letters is an active part of their daily responsibilities. We wanted to make the experience easier to initiate as well as provide more functionality within the letters. Ultimately, this will help you save time and have more freedom in customizing engagement letters to fit your needs.
Since you may be sending similarly worded letters to multiple clients, the letter generator can make it easier for you to use the same text and have the custom merge fields generate information based on their contact file like their first or last name.
Where to find it:
The letter generator can be found in the Client Management module. However, to utilize its fullest potential and functionality you will have to also have our Document Management module (for eSigning purposes) and our Workflow module (to add letters to a task or notice).
Get started: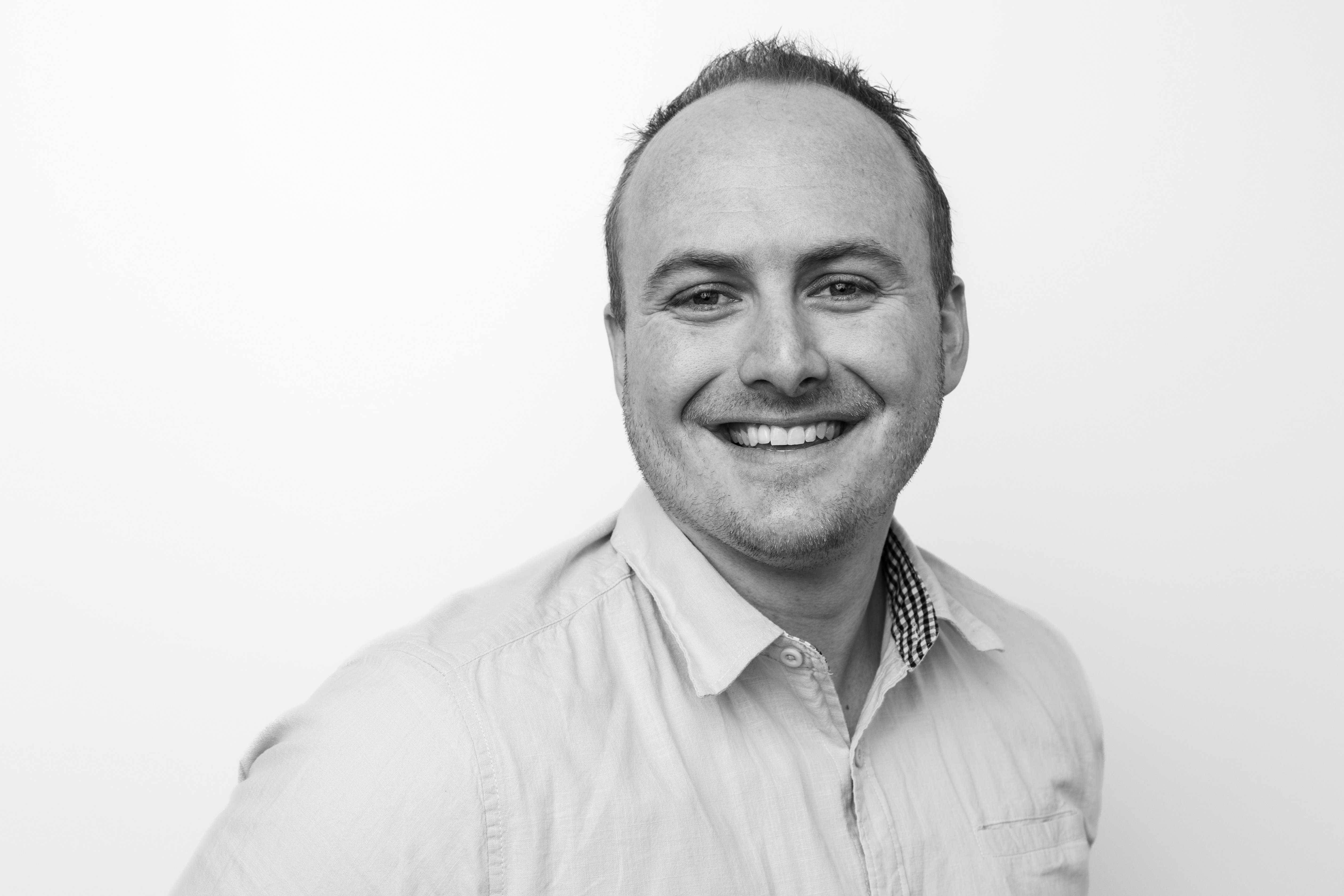 Jonathan is a Product Marketing Manager at Canopy.
READ MORE BY Jonathan