Canopy's latest enhancements—specifically email signature and custom background images—give you added ability to personalize your firm's branding and image. You will now be able to make further customizations to improve communication between you and your clients.
Professional email signature
This latest update, available to all Practice Management users, includes the ability to upload your firm's logo or any other desired image to your email signature for a more professional look.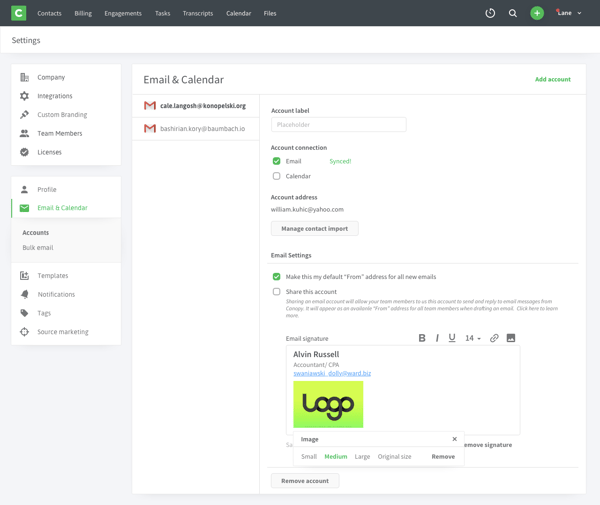 Client portal: custom backgrounds
With the latest updates to custom branding, users can now upload their own image to the background of their client portal login. With full freedom to choose an image, you can further enhance your client's experience when navigating Canopy, improving your brand image at all touchpoints. This extra level of customization will help your clients know that they are in the right place when logging into your portal. In turn, you will be confident knowing that your clients are having a quality user interaction.
One brand, one voice
The custom branding capabilities that Canopy provides allow your firm to consistently communicate a unified voice and brand across all employees and clients. You can polish your firm's professional image to grow your practice and build the trust of current clients. With all that Canopy's custom branding has to offer, you can familiarize clients with your brand and give them the assurance of knowing that they are in the right place when interacting with you and Canopy.
Interested in learning more about Canopy's other Practice Management features? Sign up for a demo here and see them for yourself.